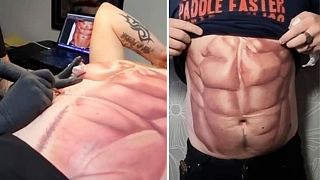 -
Copyright

dean.gunther - Instagram
What fresh (inked) hell is this?
A new tattoo trend could be emerging and it's… It's quite something.
While there are those who forgo the joys of fatty foodstuffs, mainline detox juices and sweat their bodyweights in gyms to get "beach body ready", there are those looking for creative shortcuts when it comes to looking buff for the summer months.
Belonging to the second category is a Brit who has found a radical (and permanent) solution to keeping fit, one which allows him to have both a dream physique and indulge in all the culinary and drinking excesses his eager intestines dream of.
No, it's not going under the scalpel. Don't be so 2005.
This anonymous gentleman has decided to get a hyper-realistic tattoo of the six-pack abs he doesn't own.
An effective initiative, but above all, a lasting one.
His tattoo artist, South African Manchester-based Dean Gunther, shared what must have been quite the tattooing ordeal on Instagram, in a video that is currently blowing up online.
Check it out for yourself:
The reviews have been mixed. Some have expressed awe at the execution of the piece while others thought the man getting inked in this design was an indictment of the negative influence shows like Love Island.
Granted, it's a mission maintaining a healthy lifestyle these days, and shows promoting identikit body types tend to insidiously burrow themselves into the collective cultural psyche, promoting unrealistic (and body-shaming) beauty standards that equate a certain idea of bodily perfection and happiness. 
But this unorthodox cheat code seems a smidge excessive.
"It's been one of my most unusual requests," says Dean Gunther, who specializes in colour realism and portrait tattoos and undertook the two-day process. 
"My client always wanted to have chocolate bars but he didn't want to go to the gym or go on a diet," he explains. "So he decided that by getting abs tattoos he would still be ready for the summer and still enjoy beer and good food. I was excited to get this tattoo because I had seen someone do it before, but the design was wrong (...) So I decided to do it completely differently."
What do you think? Worst idea ever or stroke of genius? And will this gain popularity in the same way overdone under-boob and side of finger ink took off, latitude-longitude designs were once all the rage, or Gen Z-favoured "less-is-more" minimalistic art had its moment?
After all, social media has shaken up how people get tattoos, with more people exposed to trendy designs circulating online and locally-inspired trends going global when shared on media platforms.
In the case of the abs, we here at Euronews Culture think that putting in the actual work may take more time, but it would be a hell of a lot less painful.
Wherever you fall on this issue, there's no denying that this enterprising gent is putting the 'cut' in 'shortcut'.