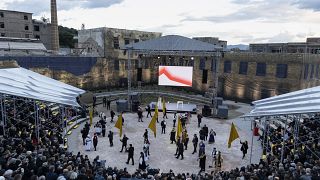 -
Copyright

Yorgos Karahalis
The Greek portuary city of Elefsina is one of the European Capitals of Culture for 2023. 
Known as Eleusis in ancient Greek, the city kicked off its first day of festivities on 4 February. 
Its programme takes inspiration from Elefsina's rich history, centring upon the theme 'Mysteries of Transition'. Over the course of the year, 192 Greek, as well as 137 international artists will put on a variety of cultural events.
However, due to emergency measures due to bad weather, the second day of events which were scheduled for 5 February, were postponed.
Other European Capitals of Culture for 2023 include Timisoara in Romania and Veszprem in Hungary. 
With a population of approximately 30,000 and located around 20 kilometres West of Athens, Elefsina is the smallest and oldest European Capital of Culture to date. The initiative was first launched in 1985 by the European Commission.
Watch video in player above.