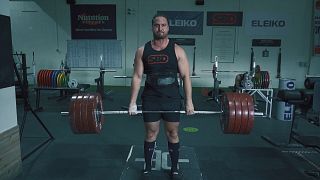 Copyright

euronews - Credit: Dubai
Marco Cipolat is a powerlifter and the co-founder of Desert Barbell in Dubai, the biggest powerlifting club in the Middle East, which is measured by the number of registered and competing lifters in a club.
Marco grew up in South Africa, playing different sports. "My mom was actually the sportsman in the family. At every swimming gala I had, every time my head would come out of the water, I could just hear her in the crowd", Marco recalls.
After finishing his studies in finance and investment management, Marco started working in the events industry and moved to Dubai with the ambition of living and working in a more diverse and competitive environment. "I was very focused on my career, and I noticed my body weight started going up, I wasn't as active as I would like to be, my diet was all over the place, and I thought, 'No, it cannot go on like this, I need to change something,'" Marco says.
Marco started going to the gym with one of his colleagues, who told him about powerlifting. As the two started practicing powerlifting themselves, they saw Patrik Hedqvist at the gym. "He was the first legitimate powerlifter we had met. He competes for team Sweden. He has been to the world champions." Marco said.
Patrik started coaching Marco who then fell in love with powerlifting as he learned more about the sport. The two started talking about bringing together all the strength athletes in Dubai under one roof, and after an inspiring visit to the club where Patrik used to train in Sweden, they came back to Dubai and opened the Desert Barbell.
Powerlifting athletes compete by attempting three types of lifts in a set sequence; squat, bench press, and deadlift. Headed by Patrik, seven coaches in Desert Barbell help over 120 members practice different forms of strength training including these three forms of lifts. "A very interesting thing we managed to do is to de-dramatise the barbell for individuals who had no idea what powerlifting was a few years ago," Patrik says.
18 of those members will represent UAE in the Asian Powerlifting Championships that will be held in Dubai this year, and Marco is one of them. "When the head of the powerlifting committee asks if you want to represent the UAE, how can you say no to that? It is such a privilege and honour," Marco told Euronews.