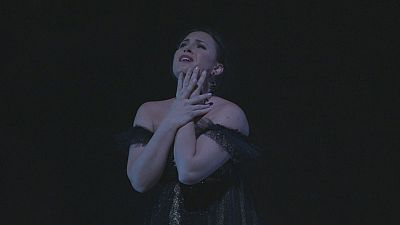 Elisabeth de Valois in Don Carlos in Paris, Tosca and Luisa Miller in New York, then Imogene in Il Pirata in Milan; this season, Sonya Yoncheva is debuting in a range of roles, and is preparing for them all with rigour and pragmatism.
"This season is very exciting for me. I really try to not think about it, just go through," she said.
"I always say that the music helps because if you have to learn only a text that would be harder for me.
"Of course, I should say these are pieces I have heard many times in my life. Tosca, for instance, I have heard it probably hundreds of times before learning it, so, it's not that.
"I was listening to almost everything and I also went to see live performances to see how my colleagues are dealing with the part and that was really interesting because when you see other singers perform you always – as you are doing the same job – you understand the small differences which can really help you sometimes in challenging situations. So yes, I was listening to almost all the versions that exist on audio and video. It was inspiring."
Yoncheva had already performed with Vittorio Grigolo and Željko Lučić.
"It's better when you know your colleagues, because you know how to play with them on stage and you know what they want and everything is much more predictable but at the same time, you know in the opera world, we don't have many limits.
"For example, it happened to me to sing with a tenor who came just five minutes before and I never knew him before, and we had to have huge love scenes on stage and it worked, it's just like this, we're just artists, we go for it."
-