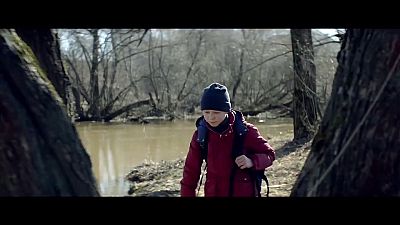 'Loveless' is a dark, cold thriller by Russian director Andrey Zvyangintsev, competing for the Palme d'Or at this year's Cannes film festival.
In modern-day Russia, Alyosha – played by Matvey Novikov – is a shy and unhappy 12-year old living with his parents Boris (Alexey Rozin) and Zhenya (Maryana Spivak), neither of whom has any time for him. In the middle of a poisonous divorce, they're too busy hating each other. Both have new partners and want to move on.
One day, after overhearing a violent argument between them, the young boy disappears. A massive search ensues, which, instead of bringing them together, tears them even further apart.
The movie has collected strong reviews, with The Guardian's Peter Bradshaw calling it "a masterpiece".
After the award-winning 'Leviathan', Zvyagintsev once again delivers a scathing, unforgiving critique of a hardened, soulless society where there is little room left for love.
My review of Loveless (dir. Andrei Zvyagintsiev) is up here: https://t.co/cl4dp8Wg7k#Cannes2017#Cannes70

— Peter Bradshaw (@PeterBradshaw1) May 17, 2017
#Cannes: 'Loveless' ('Nelyubov') film review https://t.co/djelvhG7YNpic.twitter.com/Dqj9AXpWIB

— Hollywood Reporter (@THR) May 17, 2017