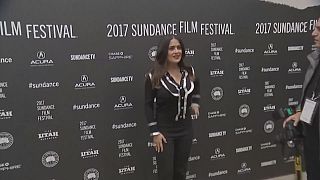 Mexican-American film actress Salma Hayek presented her new movie 'Beatrix for Dinner' at the Sundance Film Festival .
She plays a miracle worker from Mexico living in Los Angeles who meets a Donald Trump like self-satisfied billionaire.
"It goes beyond the political moment. I think it speaks to the division of perspective in America. You know – two completely different perspectives that are not able to communicate very well right now. And this is what the movie is about," explained the actress.
A dinner party hosted by the billionaire businessman to celebrate a lucrative deal soon turns sour.
Beatrix and the businessman clash over empathy, greed and politics instead of enjoying the cozy dinner ambiance.
'Beatrix at Dinner' unfolds like a suffocating chamber drama. Actress Selma Hayek received very positive reviews for her performance after the films premiere at Sundance.
'Lady Macbeth' had already premiered at the Toronto Film festival before its showing at Sundance.
#sundance2017 "sundance 2017 film reviews: LADYMACBETH (has nothing 2 do with shakespeare)" on bumpersfm</a> <a href="https://t.co/xNvQj9i1of">https://t.co/xNvQj9i1of</a></p>— KAIT SCHUSTER (kaitkaitkaits) January 24, 2017
Florence Pugh as the young Lady Katherine is the lead. With her husband absent she is imprisoned by the harsh tongue and the severe scrutiny of her father-in-law.
"She needed to present a young innocent who then through the course of the film becomes somebody who essentially is led to violent acts and is completely changed by the end," explained the movie's director William Oldroyd.
"That was so important in the first couple of scenes to make her something that we could relate to, something quite delicious that we wanted to love and we felt sorry for and with that you follow her and you follow her to the very end even though she'd done so much wrong," said the actress Florence Pugh.
The film is an adaptation of the 1865 novel by Nikolai Leskov "Lady Macbeth of the Mtsensk District" – Dmitri Shostakovich turned it into an opera, and in 1962 it first hit the silver screen as "Siberian Lady Macbeth".