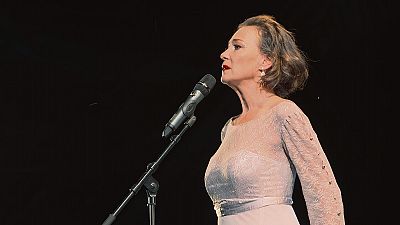 A long dead, enigmatic, German movie star and stage queen has found a fresh voice in a new show performed by revolutionary Hungarian actress Andrea Fullajtár.
The classical thespian sings the songs and recounts the thoughts of Marlene Dietrich in the show 'Boomerang Baby.'
Kónya Rita Veronika Fullajtár Andrea
Marlene Dietrich-estjéről szóló plasztikus
élménybeszámolója a euronews… https://t.co/JIHudRU5bk

— Orfeum Club Budapest (@OrfeumBudapest) December 3, 2015
Fullajtár relates to Dietrich's political activism:" If you are a well known individual, your responsibility is greater, you cannot be silent in certain situations. If a minority is attacked for example.You have to stand against it. On the other hand I feel bad, as a citizen, if I remain silent. Something must be done."
Marlene Dietrich photographed by Edward Steichen in Hollywood, 1931. pic.twitter.com/sx2dILyi9t

— Tanja (@T__twitt) August 28, 2016
The show is inspired by Dietrich's thoughts on life, love, politics, and based on the book of the movie star, called "Dietrich ABC". A unique meeting of two great artists of different eras. The performance is a cocktail of difficult themes mixed with wry humour.
The performer continues:"She was never afraid of saying what she thought, she was never afraid of the consequences of her words, that impressed me so much. Although it often had serious consequences. For example, she refused to be the star of the German cinema during the years of Hitler's regime. That decision caused really big trouble for her family in Germany.''
'Boomerang Baby' sees the actress perform an anti-war belly dance, an interesting juxtaposition: "During the rehearsals I started to learn to bellydance. I told the director that I felt that bellydance is a feminine, erotic kind of art, but if you perform the choreography harder, there is a very strange result: something dissonant and remarkable at the same time."
#MarleneDietrich in Destry Rides Again (1939) #AnimatedGIF#Comedy#Westernpic.twitter.com/dno1xbnYKD

— Panthera (@wayofthepanther) August 21, 2016
The show is touring Hungary this year and will then move abroad.