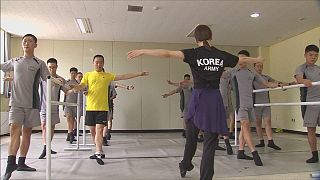 After a heavy day patrolling the Demilitarised Zone that divides the Korean peninsula, South Korean soldiers swap their military boots for a pair of ballet shoes.
The two Koreas are in a technical state of war under a truce after the 1950-53 Korean War.
Every week, a ballerina from the Korean National Ballet holds a lesson designed to ease the stress of guarding the world's most heavily armed border.
"There's a lot of tension here since we live in the unit on the front line, which makes me feel insecure at times, says 23-year-old sergeant Kim Joo Hyeok.
"However, through ballet I am able to stay calm and find balance as well as build friendships with my fellow soldiers"
Ballerina Lee Hyang-Jo says she had doubts when she was first asked to come and tutor the soldiers: "Living as a soldier is quite tough, so I wasn't sure I could actually help them here.
"But now I'm glad to be here and feel worthwhile whenever I see them smiling more and enjoying ballet as they learn it little by little"
The soldiers perform the splits and practise movements such as plie and battement tendu.
Their batallion commander Lieutenant commander Heo Tae-Sun, believes it brings many benefits:
"Ballet requires a great amount of physical strength and is very good for strengthening muscle, increasing flexibility, and correcting posture. So I think that ballet has helped us complete the operation at the General Outpost last year"
These soldiers are stationed in Paju, which lies adjacent to the border about 60 miles north of Seoul.
Last year, they performed part of Tchaikovsky's Swan Lake and they are planning another performance at the end of this year.