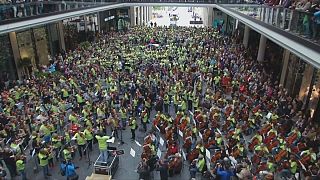 The German Symphonic Orchestra, led by honorary conductor Kent Nagano, held an impromptu concert in a Berlin shopping mall.
About 1,000 musicians joined in the concert, the youngest aged just 5 and the oldest 82.
The 1,500 onlookers, according to the organisers, were treated to Verdi, Wagner and Bizet.
The idea behind the 'Symphonic Mob' is to encourage music enthusiasts to perform and give them a chance to play and sing alongside professionals.
"To me the idea of a flashmob was so strange, so artificial," explained conductor Kent Nagano. So, I had a serious discussion with my daughter. And my daughter, of course, is very much plugged in to the technical generation. So, I said, you know, 'I'm not feeling so comfortable.' And she replied, 'Oh papa, just get over it. It's the same thing, it's just meeting someone in the Bahnhof (station) or meeting someone on the street. You have to be open. Be open to the experience of meeting people for the first time. Don't be afraid".
Music enthusiasts can check the schedule and learn more about the project on the following website symphonic-mob.de
'Symphonic Mob' takes over a shopping mall https://t.co/9YTkZHPm8h via @Reuters

— Charleston Symphony (@ChsSymphonyOrch) 17 May 2016