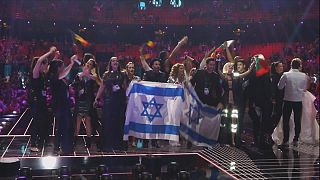 Go on, admit it. You are besides yourself with excitement at the upcoming Eurovision Song Contest which takes over the airwaves this weekend to love bomb audiences with its relentless feel-good message, where everyone, even the smallest nation, gets a moment in the spotlight and perhaps, who knows, wins the grand prize.
Except that is about as likely as, say, Leicester winning the English premier league. Hang on a minute…
Twenty-six candidates will dazzle the cameras with their fixed smiles during the final. Among the final lucky candidates is well-known European holiday destination Australia.
No, I don't understand either, but in the alternative reality that is Eurovision, anything is possible.
Thunder from down under
Rubbing salt into the wound, Australia's chances of Eurovision glory are high. Bookies say Dami Im is second favourite behind Russia after delivering a knockout performance of her "Sound Of Silence" in the semi finals. The show is very popular in Australia, which is taking part for the second time.
"I'm so relieved. Thank you for everybody who voted and I'm just glad to get to stay in Stockholm a bit longer," he says.
Pressure? What pressure?
Belgium join neighbours Netherlands, Germany and France in the final with a second successive qualification with song "What's the pressure?". They were the last country to be announced sparking unbridled celebrations from 19-year-old singer Laura Tesoro in the Green Room.
"It was awesome, I'm so glad so I wanna thank everybody for voting, thank you so much!" she gushed.
I'm gonna make you a star
Hovi Star's entry has seen Israel rise from 150/1 outsiders to a likely top six finisher in Saturday's final. The song has been incredibly popular in Stockholm and you could hear the audience singing along with the entry during the semi-final performance.
"I have no words to describe it, what I said in the end of my song, I meant every word of it. The dreams that you dare to dream really do come true. This one came true for me!" he says.
Party like it's 1944
Also in the final is Ukraine's Jamala, a Crimean tatar, with her much-talked-about song "1944" about the mass deportation of Tatars by Stalin in 1944, the bookies' third favourite song.
But it is the Russians who have the hot favourite, Sergey Lazarev's "You Are The Only One".