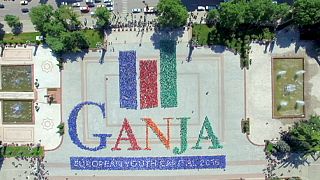 The Azerbaijani city of Ganja used to be the country's ancient capital. It was founded over 2,500 years ago.
Record numbers of young people live in Ganja, making up about a third of its population. Ganja has been chosen as this year's European Youth Capital.
"The project started in 2009, every year one city is chosen," Elmir Valiyev, Chairman of Ganja European Youth Capital 2016, told Euronews. "And Ganja made the most serious and interesting proposal."
Locals and guests celebrated with visits to museums, and outdoor festivities .. showcasing a variety of Azerbaijani traditions, such as dance, food dishes and carpet-weaving.
Guests enjoyed the nearby Goy-Gol Nature Reserve, a protected mountain lake 1,500 meters above sea level.
A new youth centre was inaugurated, and officials from Azerbaijan, the United Nations, and international youth organizations took part in the official opening.
The country's minister of youth and sports said it would raise awareness of the city.
"The main goals I think is to make Ganja and Europe closer together, to bring the European youth to Ganja, to have the chance to send our most talented youth from Ganja to Europe, to show the city, which is not the capital actually, it's the second city in the country, on the map of the world," said
Azad Rahimov, Minister of Youth and Sports, Azerbaijan Republic.
"We have similar personalities, Italian people and Azerbaijani people, so I'm happy to be here, to celebrate this important event, because Ganja will be European Youth Capital 2016," said singer Ingrid, Singer. "And I'm happy to be here! Congratulations Ganja! Ciao!"
Ganja is hosting many social and cultural events this year with the intention of helping young people reach their full potential.