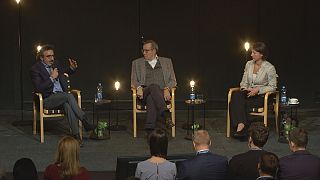 Tallinn Music Week has made a name for itself as a crossroads between different styles and genres. If you're lucky, you might even spot Estonia's president, Toomas Hendrik Ilves, behind the turntables, presenting his own rock'n'roll compilation for charity.
It's also an opportunity for people to meet and connect. The idea is to bring all this creative energy together as a tool for disadvantaged groups around the world.
"The reason we decided to do it was that we feel there are a lot of great ideas in the creative sector," Tallinn Music Week director Helen Sildna told Euronews' Anja Bencze. "But also, if we talk about creativity, we want to talk about it in the broadest sense. We don't only mean arts, design, music and film, but also creativity as a mindset. The citizens' initiatives and our capability of joining all the forces of all the brightest minds is just really the thing that might make the difference."
The discussion panels brought together game-changers from more than 30 different countries in field ranging from the arts, business, culture, education, science and technology.
Among them was Hamdi Ulukaya, a successful US entrepreneur of Kurdish origin, who backs The Giving Pledge campaign, aimed at encouraging the world's richest business people to share their wealth.
He has set up a foundation to get companies and entrepreneurs to use their expertise and influence to help refugees around the world.
"I do believe business can be a game-changer," he told Euronews. "We need to bring businesses and entrepreneurs into the most troubling humanitarian crisis right now. And the best thing is that businesses are willing to come in. The challenge is: how do we get all these resources, the businesses, to connect with the agencies, you know, the UN-agencies and the governments, and impact them to do things faster, better, in a more humane way and cheaper – most importantly faster?"
This first edition of Creativity for Change has already led to some concrete projects, including plans for a charity concert later this year in Estonia.
One thing is for sure: Tallinn Music Week intends on maintaining and strenghtening its involvement in social and political issues in coming years.