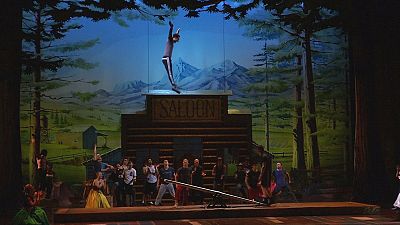 Canadian theatrical company Cirque du Soleil is making its Broadway debut with a new show called 'Paramour'.
Set in the golden age of Hollywood, it brings together acrobats and traditional Broadway performers for a musical about a love triangle between a young actress and two men fighting for her attention.
"We have 22 acrobats on stage, world class acrobats that we've cast from every major country literally in the world, from China to Russia to Brazil to Canada. And those 22 acrobats have been woven into a singing, dancing, acting core of 16 traditional performers. And together they tell the story," says Scott Zieger, president and managing director of Cirque du Soleil.
Founded over 30 years ago by a ragtag group of street performers, Cirque du Soleil has grown into a global circus and entertainment company, which generates an estimated annual revenue exceeding 700 million euros.
Τhe idea behind 'Paramour' is to merge their talents with Broadway actors. Rudy Lewis is the show's female lead and a traditional Broadway performer.
"I'm happy to bring song, dance and story. And then the acrobats come in, they have choreographed the acrobatics to just heighten the story. And it's really, really beautiful and unique in that way. And it's been wonderful to build together because we've created it from the ground up, together," she says.
The first ever replicable show in the company's history, 'Paramour' marks an attempt by Cirque du Soleil to transform the way it does business: if successful, the show could be exported around the world.
Previews start on April 16th with the opening night scheduled for May 25th at the Lyric theatre on Broadway.