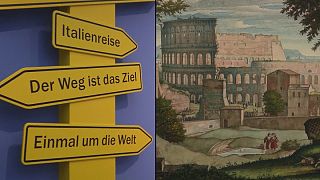 Travel pictures immortalised by artists are special, and an exhibition in Berlin, Germany celebrates that in an era when phone images have replaced the camera or paintbrush. For centuries, we have been inspired by foreign lands and cultures and that fascination led to some picking up a pen or brush to capture the peculiarities of their journey.
Traveling is about answering the questions "Where do I belong in the world?" "Where is home and where is away?"
"We're off then" is the show's title, and it gathers more than 100 prints and pictures over five centuries showing travelling as art.
"To travel has always been an important theme for people. It starts with people using their feet to explore the areas around their homes. Traveling is about answering the questions Where do I belong in the world? Where is home and where is away?" says Curator Ina Dinter.
In the beginning artists only had sketchbooks, drawings, watercolors and oil paint to sweep us away to new, foreign worlds. But of course the invention of various forms of print techniques made artistic "Postcards" more accessible. One early example is the Colosseum in Rome by famous 18th century Italian artist Giambattista Piranesi
The postcard was the mobile medium of its day: easy to share and a bit like the internet, not as fast but still very fast for the time.
"The printed graphic is an important medium, just like printed books or illustrated works. They are multipliable, serially produced, pictures – just like this wonderful picture of the Colosseum from above, here behind me. Many editions of this picture were published up until the 1930s, now you can find a copy at almost every auction. This was something that you brought home back with you to hang it on the wall and show friends and family", says the Director of the Museum of Prints and Drawings or Kupferstichkabinett, Heinrich Schulze Altcappenber.
If you want to hit the road with travel pictures from over 500 years then "We're off then" can be seen in Berlin at the The Kupferstichkabinett until the end of September.
The Kupferstichkabinett is part of the Berlin State Museums, and is located in the Kulturforum on Potsdamer Platz. It is the largest museum of graphic art in Germany, with more than 500,000 prints and around 110,000 individual works on prints and drawing.