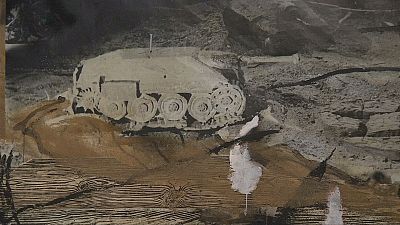 A massive retrospective of works by German artist Anselm Kiefer is currently on show at Paris' Pompidou centre.
Born in March 1945, Kiefer is best known for his subject matter dealing with German history and myth, particularly as it relates to the Holocaust. He was one of the first artists of the postwar generation to deal with Nazi history – in works that have a chilling echo today.
"Terrorism, anti-semitism, islamophobia… We find that all of these issues that make up the disorder of the world are echoed in these works, which raise fundamental questions about history and remembrance," says the curator of the exhibition, Jean-Michel Bouhours.
Rejecting the influences of abstract expressionism, pop art and minimalism, Kiefer developed his own visual language, using materials such as lead, earth, broken glass, and dried flowers or plants, which gives his work a dual meaning.
"His work is always bipolar, joy is always mixed with danger and drama, which itself is mixed with other elements. So the two are always present in his work. If the painting is black, you will always discover an element of joy," says Jean-Michel Bouhours. "For Kiefer, the world is a cycle, and so there are positive and negative cycles. Wars are obviously negative but destruction contains within it elements of creation."
In France, where he settled in 1992, Kiefer remains very popular to this day.
The nearly 150 works on display include key early works dealing with the Holocaust as well as more recent works revolving around Jewish mysticism and the kabbalah. The Anselm Kiefer retrospective runs at the Pompidou Centre until April 18.