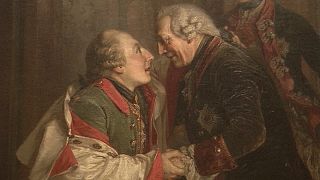 Berlin's Alte Nationalgalerie is celebrating 200 years since the birth of Adolph Menzel, considered one of the great German painters of the 19th century.
The exhibition explores the contrast between public and private in Menzel's work, with grand historical scenes on display alongside intimate depictions of nature and everyday life – some of which are on show for the first time.
"Today the best way to get close to an artist is to look at his private paintings. Menzel lying in bed and painting a picture of his own foot is probably the strangest self-portrait of the 19th century but seems very modern to us today. And I think that is what makes Menzel so fascinating, even today," says Philipp Demandt, director of the Alte Nationalgalerie.
Menzel left behind more than 400 paintings, drawings and prints of Frederick the Great, and hundreds more of other kings and nobility. His paintings of the German aristocracy and historical events brought him fame in his lifetime, endowing him with wealth and awards. He also depicted the new industrial age, like in his famous 'Iron-Rolling Mill', where workers crowd around melted steel in an industrial hall.
"One can compare Menzel to French painter Edgar Degas, from the late 18th, early 19th century, who was dedicated to observing reality, looking at what was happening in the 19th century. It was the time of the industrial revolution, mechanisation, the first railways," says Heinrich Schulze Altcappenberg, director of the Kupferstichkabinetts (Museum of Prints and Drawings) which is lending the works to the Alte Nationalgalerie.
The anniversary exhibition dedicated to Adolph Menzel's work runs until February 21st at Berlin's Alte Nationalgalerie.