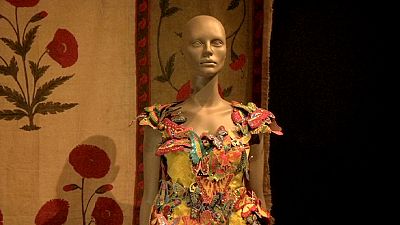 Visitors to London can take a passage to India via its textiles at the Victoria and Albert Museum.
The new exhibition explores the importance of fabric to India's economy and includes 200 handmade pieces, highlighting the technical mastery of the subcontinent's textile industry and the role they played in its turbulent history.
The stand out piece is the elaborate tent used by Tipu Sultan, the 18th century ruler of Mysore. Designed to impress it spreads across 58 square metres and features designs of printed chintz.
Don't miss The Fabric of India, opening this week V_and_A</a> <a href="http://t.co/ZXlZRpecMG">http://t.co/ZXlZRpecMG</a> Highlights from Apollo&#39;s <a href="https://twitter.com/hashtag/ArtDiary?src=hash">#ArtDiary</a> <a href="http://t.co/kZ2Vlebvv1">pic.twitter.com/kZ2Vlebvv1</a></p>&mdash; Apollo Magazine (Apollo_magazine) October 1, 2015
Exhibit Co-curator, Rosemary Crill explains its significance.
"Rulers in India would have used these very elaborate tents with beautiful – especially the inside would be beautifully decorated, often in these floral designs so that there was a sort of sense of being outside in a garden. And these would be taken with the ruler when they were out on campaign, or when they were out for the day just enjoying themselves, when they were out on a hunt. So they were basically sort of alternative palaces."
Beautiful textile room, complete with window flaps, from V_and_A</a> Fabric of India exhibition <a href="http://t.co/BZKkIUQSbf">pic.twitter.com/BZKkIUQSbf</a></p>&mdash; Emily Sharpe (emsharpe) September 30, 2015
An entire room is dedicated to a wall hanging from rural Gujurat. It was found dumped outside a Brooklyn warehouse by an art appraiser in the 1990s and is having it's first public showing, and is proving to be one of the exhibition's highlights.
Crill explains how the V&A happened upon the item. She recounts that Jerome Burns found it and realising its significance, took it home.
"(It was) way too big for him to do anything with so on his next visit to London in the early 1990s, he came to the V&A, showed me a picture of it, said; 'Would you be interested in this?' We said; 'Yes, certainly'."
Cutting-edge designs from India's thriving fashion industry complete the journey to the present day. The showcase includes work from designers Manish Arora, Sabyasachi Mukherjee and Rajesh Pratap. The collection demonstrates how the past informs the present.
From the raw materials and dyes used to create the colourful fabrics to the processes and iconic motifs that have spread across the globe, the exhibition is a celebration of fabric's central role in India's history.
'The Fabric of India' runs at London's Victoria and Albert Museum from October 3rd 2015 to January 10th 2016.