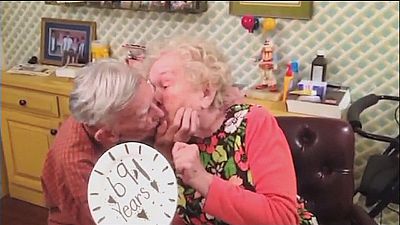 A tribute to love and loyalty. That's the theme in Andy Grammer's upbeat hit "Honey I'm Good". It is the second single from the singer's sophomore album "Magazines or Novels" released in November last year.
The 31-year-old American singer/songwriter says temptation is everywhere for those in relationships and believes the message of "Honey I'm Good resonates with people from all walks of life for this reason.
"'Honey I'm Good' is a love song about temptation. Everybody has temptation – guys have temptation, girls have temptation. If you've been in a relationship at all, you have temptation outside of the relationship and if you say that you don't you're just lying, you're a big fat liar. So I wanted to write a song about that and I think that's what's been resonating with people specially in the US," the singer opined.
He turned to family, friends and fans to create the video asking them to record themselves lip synching to the song. Not everyone reached the heights of the professionals despite having precise instructions. Some had a few problems with modern technology.
"The older that you get it gets really fun. In the beginning it's like young couples who are like 'we've been together for six months and we know how to use an iPhone.' As you start to move up, 'We've been together for 50 years and what? What is this thing? What? What you need from us?' We sent out little instructions like 'Can you just put it sideways?' It's so annoying when someone sends a video vertical – 'Put it sideways, lip synch and hold up a sign'. They go really funny as the ages got older," he explained.
"Honey I'm Good" is out now