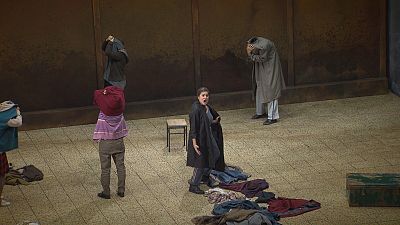 "I pray to the almighty gods" is this year's theme of the Whitsun festival in Salzburg, chosen by artistic director Cecilia Bartoli. The famous mezzo soprano added another heroine to her repertoire – the tortured, dignified priestess in Gluck's "Iphigénie en Tauride", a Greek tragedy.
It was her heartfelt wish to bring the German composer back into the spotlight describing how Gluck was "a composer who deserves more popularity".
Bartoli told euronews: "It's clear that Gluck was one of the most important composers of his time. And Wagner was a big admirer of Gluck, Berlioz was a big admirer of Gluck."
Gluck's most famous opera premiered in 1779 in Paris.
Stage directors Moshe Leiser and Patrice Caurier described their admiration for the composer, famous for reforming opera in the 18th century.
"Gluck's great revolution was to bring the text to the foreground and write music that could serve the text, forcing people to listen to the verse and reach the soul through words," said Leiser.
Describing the stage performance, artistic director Bartoli said:
"We are not there to please with beautiful costumes, beautiful make up. We are telling a story, which is a terrible story. At the same time I think you can show the emotion. You can go into such a deep feeling and we are so nude."
The opera tells the mythic tale of Iphigénie, who is forced to commit sacrificial murder – a challenging role.
Paying tribute to his leading lady and the piece, stage director Patrice Caurier told euronews:
"Cecilia (Bartoli) is a performer who gets to the heart of something and Gluck can only exist if we absolutely get to the nub of the story."
Stage director Moshe Leiser told euronews: "Gluck wrote absolutely sublime music because the characters are in the most awful situations."
"There's a reason why the music is beautiful. It's because these people are fighting against their destiny because these people are in a fight with the Gods, who amuse themselves watching them suffer," he added.
One of Bartoli's favourite moments is the heart-rending aria "O malheureuse Iphigénie".
"She is still there and what is the hope for Iphigénie? There is no hope, nobody is there anymore. I think it's one of the most beautiful scenes in the operatic world," Bartoli added.
For more excerpts from our interviews with mezzo soprano Cecilia Bartoli and the stage directors Moshe Leiser and Patrice Caurier please click on the following link:
A unique collaboration: Cecilia Bartoli and her duo of directors