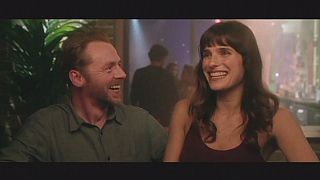 US actress Lake Bell stars in romantic comedy 'Man Up' as bumbling misfit Nancy who at the age of 34 announces she is too old for romance.
Her life takes an unexpected turn when she meets Jessica on her way to a blind date. Following some confusion, Nancy ends up accidentally hijacking Jessica's date, Jack, played by English actor Simon Pegg.
"When I did this movie, the second I landed in London to do it I took on the accent," says Lake Bell. "I don't traditionally do that, but it was sort of an experiment in order to be able to improvise within the dialect because, you know, working with Simon (Pegg), he improvises a lot and I wanted to be able to sort of lob back any comedy tennis that we might be playing."
Pegg, who is also a screenwriter, producer, director and singer is perhaps best known for playing in the Star Trek films and as Benji in the 'Mission: Impossible' movies.
Bell says they immediately hit it off on set: "What works really well in the movie, that you definitely feel, that we have a really connected kind of comedy chemistry. I think you always want that in any kind of two hander, but certainly for a romantic comedy where the whole movie rests on that – on the success of that connection."
The film has opened to mixed reviews with some deploring the fact that it treats female singledom as if it were stage IV cancer, while another gave it a thumbs-up describing it as an "easy, breezy romantic comedy that offers a pleasant sense of (Bridget Jones) deja vu
'Man Up' starring Lake Bell and Simon Pegg is on out now.