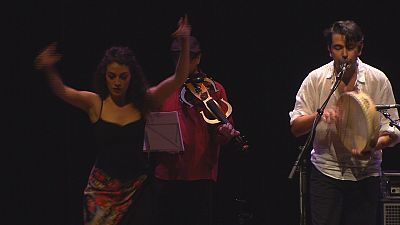 Italian musician and songwriter Antonio Castrignano has been making people dance from southern Italy to France in a series of performances that marry the past to the present day.
Antonio Castrignano is a master of a centuries old musical tradition, which sings of the joy of working the land.
He spoke to euronews reporter Diego Giuliani about the rhythms of pizzica, the tarantata of the Pugila region, and the lessons we can learn from a shared past and culture.
"It's a kind of medicine, something natural. It is the fruit of a people, who found the way not to marginalise people who had problems, who were unhappy, they were reintegrated into society, in the community, through a ritual – we will say 'shamanic' – through dance and a special music pizzica tarantata. Even three decades ago Italians were unaware of Salento, even the weather forecast ignored this tiny piece of land, which is at the heel of Italy. A movement which began in the 1990s showcased the strength, vitality and dignity of Salento the dignity to stand up and be recognised by the world as a people that have suffered but also brought great joy.
The past teaches us many things it gives us the essence of values that we are losing today. The value of communication, not social networks, but by looking people in the eye. We have to relearn its value, not always be glued to the screen of a smartphone, but really meet one another and grow through the exchange.
We are always ready to point the finger at those that are different, to those in need or on the margins of society, we don't know the full story. We have a need to find a solution that gratifies us rather than responding to the real needs that lead people to seek dignity elsewhere.
Whoever dances the pizzica never dies, in the dialect of Lecce. It explains everything I have told you. It sums up a universe of meaning and values and the joy of living through music."