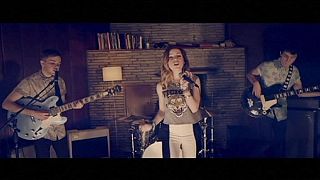 2015 has been a breakthrough year for Californian pop-rock band Echosmith, thanks to their track 'Cool Kids'.
Peaking at number 13 on the Billboard Hot 100, the single – taken from their debut album 'Talking Dreams' – has also become a hit in Europe.
"We hear 'Cool Kids' everywhere," says band member Noah. "It's so funny because now it's around the world and before it was just happening in America. Now we're going to Europe and we're walking by an ice cream shop and we hear 'Cool Kids' or we're walking by a donut store and we hear 'Cool Kids' playing. It's just so funny we can hear it around the world in the most uncommon and strange, random places. I mean it's a good sign."
Siblings Jamie, Noah, Sydney and Graham, make up the band which was founded in Los Angeles in 2009.
Growing up in a musical household, the siblings play multiple instruments. They say their second single, 'Come Together', sums up the spirit of the band.
'It's about having a goal and a dream and aspirations and doing it with other people and, you know, doing it as a team," says Sydney. "That's what this is, it's not just me doing everything, it's not just anybody on this couch doing everything. But everything is really just a team effort and we wouldn't be here without each other."
After releasing covers of popular songs over the past couple of years, the band now have a full album under their belt and seem to have found their own vibe.
Between concerts from the West to the East Coast, Echosmith will be touring Europe in May with stops in several major cities including Brussels, Madrid, Vienna and Milan.