Young activists from around the world are coming together to share knowledge and ideas they can take home and use to improve their own communities.
The House of Experiments science centre in Nova Gorica, Slovenia, is designed to bring together visitors of all ages to learn, exchange ideas and, of course, to experiment.
Twenty-nine-year-old Lea Kosmač works at the centre. She says she wants to apply those same principles to her life outside her job.
"I'm always searching for new knowledge, new ways of how to make the world a better place – or maybe just the community."
It's precisely in order to have a more active voice in society that Lea is taking part in a meeting of young people from Slovenia, Finland, Nepal and Bangladesh, where they debate themes like political activism and human rights.
"This is a good way to start," Kosmač says.
Sharing ideas
The workshop was set up by Demo Finland, a pro-democracy platform that started cooperating with Nepalese youth organisations in 2007. The concept was extended and is now directed to the exchange of ideas between young activists around the world.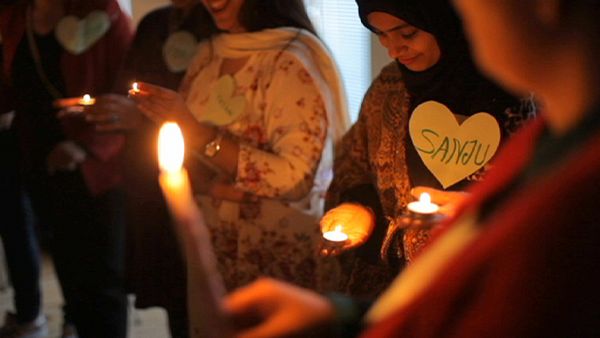 Throughout 2015, participants will meet in each of the four countries involved to get to know how young people are being heard within their different communities.
They also get to learn about the different challenges facing societies around the world, and develop a deeper understanding of what life is like in other countries.
Kosmač admits that she didn't realize arranged marriages still take place in Nepal. But she also found out that, in one case at least, things are better than she thought.
"I thought that women in Bangladesh don't have rights at all, but we realized that there are a lot of women in parliament," she says.
Sanjida Islam isn't in parliament yet but she's already doing what she can to change her society by working as a volunteer human rights defender in Bangladesh.
She says the country still faces enormous challenges and believes that educating the country's youth is key to making greater progress.
"There is a lot of corruption, there is violence against women. The general public must know their basic rights. You must develop your youth so that the nation will develop one day."
Mutual learning
The project is supported by the European Union's Erasmus + programme. The idea behind it, says Anna Juhola, is that the real results will be seen when the participants get back home and apply what they've learned in their own communities.
Juhola is a coordinator for Demo Finland's Youth Creating Solutions for Meaningful Participation programme.
"We have such different kinds of participants that they have a lot to learn from each other…This is a very fruitful way for real mutual learning. Here they are all peers, they all learn by working together."
Participants in the project can also share ideas about how to get other young people to overcome apathy and get involved in changing their communities.
The full impact of the workshops will be seen for generations to come, says Muktadir Rashid Romeo, a Bangladeshi journalist participating in the project.
"It's a big interaction that can really change the world in the near future. You just plant a tree and you will see a tree after 10, 20 or 40 years."
You might also like