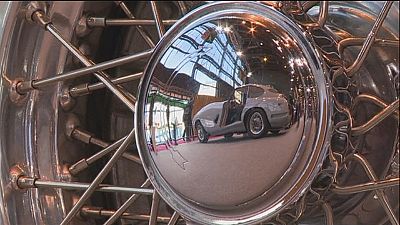 Last year, after half a century of gathering dust in a remote property in the West of France, 60 collectors' automobiles belonging to French car collector Roger Baillon were discovered. Now this Aladdin's cave of cars has gone on sale at the Retromobile vintage cars exhibition in Paris.
Bugatti, Hispano-Suiza, Talbot-Lago, Maserati, Ferrari and Delahaye are just some of the legendary names making up this extraordinary treasure, a unique opportunity for buyers, allowing them to fully restore original vehicles, many from before World War II.
"We hope to reach maybe over 20 million euros, that would be good. Because really, it's a once-in-a-lifetime opportunity to buy restorable cars from the '40s and '50s," says Artcurial Motorcars' Pierre Novikoff.
Among the highlights of the event there is a collection of 14 cars by former Spanish automakers Pegaso.
Born from post-war Spain, the first Pegaso cars were avant-garde vehicles that were technological showcases of their time.
At that time, Spain was rebuilding itself under a political regime isolated by neighbouring countries, so such a fragile economic situation made it difficult to develop cutting-edge technology.
"Pegaso was a small Spanish car maker. They made 84 vehicles – which is not much – and we managed to gather 14 examples here, one sixth of the entire production," said Retromobil show director Francois Melcion.
One famous name on the red carpet is the legendary Bugatti.
For the first time ever, Retromobile is presenting a collection of three Bugatti Royales.
The large luxury cars, also known as the 'Type 41', were produced between 1926 and 1933 by the famous French brand.
Despite their size, (6.5 metres long), and weight, (3 tonnes), they are still admired as sleek and elegant luxury vehicles to this day.
France's national automobile museum has lent the vehicles to the event as part of a one-off loan.
"Ettorre Bugatti, in the mid-1920s, had a motto which was: 'Nothing is too beautiful, nothing is too expensive'. The idea was to produce the most extraordinary car, the most luxurious possible .Those Bugattis were only meant to be sold to heads of state and European royalty," explained the director of the Cité de l'Automobile, Martin Biju-Duval.
Over 500 vehicles are on display at this year's Retromobile, covering around 46,000 square metres of exhibition space at the Porte de Versailles in Paris.
Around 100,000 people were expected to visit the event.