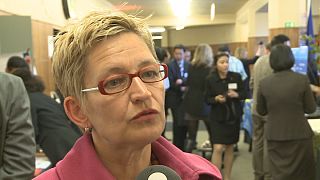 Cathérine Vuylsteke is the Foreign News editor of the Belgian newspaper 'De Morgen'. She is an expert on China issues.
While she agrees on the need for dialogue with China, she is quick to stress the country is not a democracy and that Chinese authoritarian system permeates all levels of society.
"I think the principals of the French Revolution, of Human Rights are universal. These rights are not a form of western 'intervention'. That is something I noticed on many of my travels to China," said Catherine Vuylsteke.
 
"I have never met people who thought that human rights are western. They were absolutely convinced that they did not deserve to be threatened, beaten or locked up at all. The only thing that was different from western people is that they did not believe that they could do anything about their human rights. And that is because there is a total lack of the rule of law. In this respect, there is still a long way to go," she added.
 
Click on the video above to hear more of this interview.