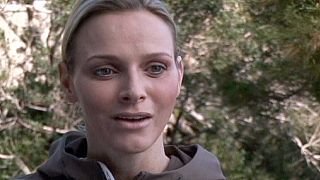 Tall, elegant, blonde and warm - Charlene Wittstock is a model of "princessly" poise.
 
Prince Albert II has had 10 years to get to know his soon-to-be bride.
 
 
The Prince has always been a sports fan, and it was this that eventually led his path to cross with Charlene's.
 
Back in 2000, she won the gold medal for the 200 metres backstroke at Monaco's International championship.
 
Three gold medals would later follow at the Swimming World Cup.
 
The 33-year-old's character has no doubt been forged by her demanding career as an athlete
 
"I think regardless of who I am, who I will be, what the expectations are I do feel that in some way it is our responsibility to look after each other and to give was much as we cant to people who are in need, whether it is sporting-wise or humanitarian-wise  and other fields, I certainly think it is a responsibility," she said.
  
Committed to humanitarian causes for much of her adult life, Charlene has nonetheless worked hard on her image, to bring some glamour back to the Principality.
 
These days, there is something of Grace Kelly in the air in Monaco.
 
Everyone is looking for signs of the Hollywood touch in Charlene's every gesture.
 
Everyone agrees, Princess Grace is not an easy act to follow.
 
 
Colombe Pringle is editor in chief of Point de Vue magazine.
 
"I'm sure she looked at every picture of Grace. I'm sure that even if Albert doesn't really know, there is something with the blonde hair, with that sort of elegance. But Charlene is much stronger in a way. For me, I don't see Grace at all when I see her, because Grace was unique," she said. 
 
Charlene Wittstock made her first official appearance back in November, as the Principality marked its National Day with the traditional service at the Cathedral.
 
Protocol had prevented her making an appearance before that as she was not officially part of the royal family.
 
A Protestant, Charlene has also had to convert to Catholicism in order to marry her Prince.
  
Since November, Charlene has begun to take on her role as future First Lady of Monaco.
 
The couple made their first official state visit in April 2011 to Ireland.