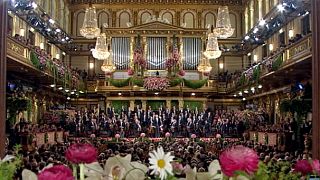 The VPO is moving on: the Vienna Philharmonic is still one of the world's top orchestras, boasting that special Viennese sound; and still synonymous with tradition in its noblest sense, with its New Year's Concert still one of its highlights. Yet that tradition is being enriched today by new, fresh blood. The proof is the VPO's new concertmaster, or rather concertmistress.
Albena Danailova is the orchestra's first female concertmaster, and playing at the New Year's Concert was her dream come true.
"For me it was the job of my dreams, I'd never have thought I would play in the New Year's Concert, I saw it so many times on TV when I was a child. And now I'm really happy!" she said.
In an orchestra the concertmaster is the first among the first violins. It is a sensitive position for which Albena Danailova seems particularly suited. The appointment may also have been political, as the orchestra only started admitting women at all in 1997.
Dr. Clemens Hellsberg is the VPO's President and first violin: "She won the audition, and she convinced us as a violinist, as a leader, as a soloist, as a chamber musician… so it was nothing else but an artistic decision."
Opening up to the new, but within the framework of tradition; hard work plus music of the finest quality: that is the VPO's stated creed.
"Usually people don't start their profession at five or six years old like every member of this orchestra did. This profession is like breathing, it's not a job," said Danailova.
Hellsberg insists the orchestra, famed for its conservatism, is ready to embrace change.
"We have to strive for timeless values; surface changes, that's clear. I mean, we cannot say 'I don't use the telephone', or 'I don't use the email because Otto Nikolai, the VPO's founder, didn't use it' but in terms of art this is striving for the highest quality: we always should try to come close to perfection – that's a timeless value," he said
Does Danailova aspire to even greater heights? "Would I like to conduct? Maybe… I don't know," she smiled.
And despite the strong links with tradition, a surprise is always in store – "There's one artist I really like very much: that's Elvis!" laughed Hellsberg.
In this story you can hear parts of the VPO's New Year's Concert, with segments of the following pieces, all by Johann Strauss: Danauwibchen Waltz, op. 427; Csardas (from "Ritter Pasman") and Blau Danube Waltz, op. 314.