House prices across Europe show a wide variety of post-2008 fortunes, but relatively consistent growth has not led to consistent optimism
Europe has endured a mixed 17 years since the turn of the century, and Eurostat figures on house price fluctuations to 2016 reflect that picture.
For some, such as Malta and Sweden, it has been nearly two decades of positive returns for home owners. But Romanian and Polish citizens have not enjoyed the same situation, with prices dropping by nine percent since 2009 for the former.
Indeed, a single year drop of 27 percent (in 2009) is clearly damaging for the Romanian economy, though recent years have signalled a possible recovery, with positive growth in both 2015 and 2016.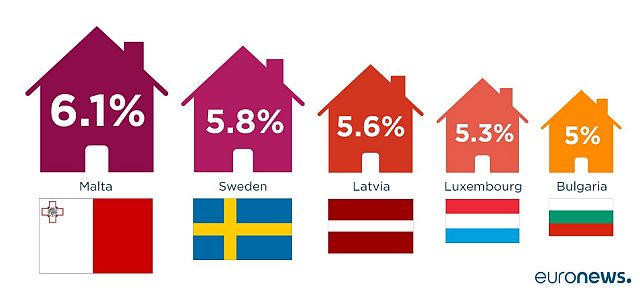 The global banking crisis of 2008 clearly affected house prices across Europe. Germany was among the few nations who weathered the crisis better than others, showing a modest growth of 1.2 percent in 2009. But even Malta, who top the aggregate growth figures (with an increase of 6.1 percent since 2001), lost out in the wake of 2008. From 2009 to 2011 only losses were recorded, with the biggest coming in 2009 at -6.2 percent.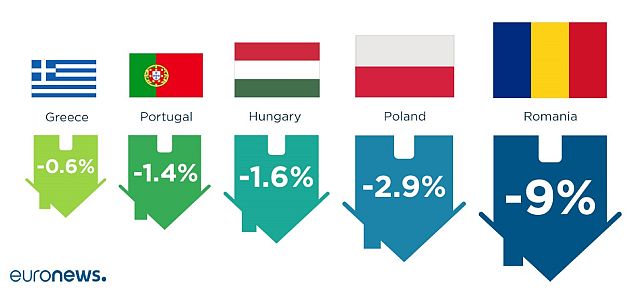 In Greece, where anti-austerity protests in Athens continue to be a regular occurrence, the fall in house prices has been less than one might assume. Though house prices have dropped each year since 2008, the rate of decline has been relatively shallow, not falling further than -5 percent since 2014.
The nations' most stable in their growth, though they have not seen the biggest growth, include Sweden and Luxembourg.
Sweden, where house prices have gained the second most of any nation in Europe since 2001, has only seen one year of net falls in the past 16 years. That loss came in 2008, and came to only -2 percent. Since 2008, growth of Swedish house prices has not been steady, fluctuating from 6.4 percent in 2010, to two years of nearly zero growth, before bouncing back to 4.7 percent increases in 2013.
Looking to the future, Sweden's real estate market is expected to continue to perform well, along with other Nordic countries. However, one projected loser in the coming years is expected to be post-Brexit Britain.
A recent PwC survey of pan-European businesses showed that 92 percent of those interviewed thought investment in the UK market will fall, and the UK property sector will "switch from being an outperformer to an underperformer following the EU referendum".
But according to the business leaders surveyed, Germany's housing market is expected to boom as the continent and investors adjust to a post-Brexit landscape. Berlin, Hamburg and Frankfurt are already placed at the top of a PwC ranking of city real estate markets with good prospects for growth and development, and with London languishing in 27th place (above only Istanbul, Athens and Moscow). Birmingham, Manchester and Edinburgh remain above London, however, perhaps suggesting that the key for sustained post-Brexit growth in the UK will lie in investment outside of the English capital.
In mainland Europe and the Eurozone the topic of house prices is still a nervous one. While the most recent figures are positive, at least for home owners and the macro-scale economy, with positive readings in 2016 for all EU countries barring only Italy and Greece, officials are regulators are still apprehensive.
While governments see growth as positive, central actors are also keen to watch the markets development, with the collapses in Spain and Italy still fresh in the collective mind. The European Central Bank captured this mood in late 2016, commenting that "vulnerabilities should be carefully monitored".