UK tries to prevent pig cull by importing butchers - Sky
Comments
By Reuters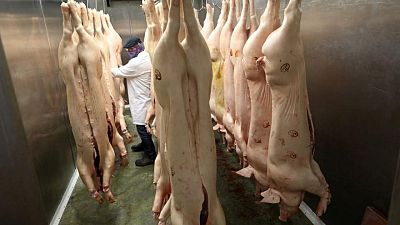 -
LONDON -Britain will try to avoid a mass cull of pigs by allowing trained butchers to come to work on temporary visas, Sky News reported on Thursday.
The measures will include dropping a requirement for fluent English, Sky News said.
A spokesman for Britain's agriculture ministry declined to confirm or deny the report, saying merely that something might be announced.
Farmers across Britain say a combination of Brexit and COVID-19 has sparked an exodus of east European workers from abattoirs and meat processors, leaving pigs to back up in barns and fields across the country.