How can we speed up drug and vaccine production to better fight the pandemic?
Comments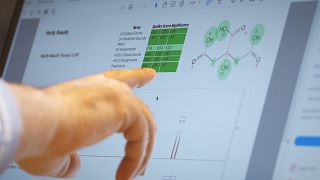 The Mestrelab software project based in Galicia, Spain has created software that interprets data generated by laboratory instruments. It's software that is helping to speed up the research and development of drugs. This means they're getting on to the market sooner. One of the places it is currently being used is in a European COVID-19 vaccine lab in Santiago de Compostela.
The idea to create this software began with three friends, in a flat, in the 90s. Today the company employs 50 people and is helping the scientific community, especially in the fight against COVID.
Euronews talked to the CEO and co-founder of Mestrelab, Santíago Domínguez Vivero, who says "we can optimise and accelerate the process of scientists interacting with the data in the lab by 80 to 90%".
For researchers, the structure of certain compounds can be indecipherable. But Mestrelab's software translates the "language" of machines into something scientists can easily understand, facilitating the many processes that are part of the drug development stage.
To see the full interview with Santíago Domínguez Vivero, click on the media player above.