Ukraine asks West to ramp up sanctions on Russia
Comments
By Reuters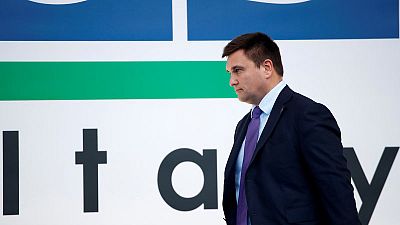 -
By Crispian Balmer
MILAN (Reuters) – Ukraine urged a gathering of dozens of foreign ministers on Thursday to increase sanctions against Russia, accusing Moscow of ramping up aggression against Kiev and sowing "instability and insecurity" across the West.
Speaking at a meeting of the Organisation for Security and Cooperation in Europe (OSCE), the foreign minister of Ukraine denounced the recent seizure of three Ukrainian naval vessels and their crew by Russian forces off Crimea, saying it represented another assault on international law.
"It is a matter of urgency to provide a prompt and consolidated international response to this act of aggression. Declarations are not enough. There must be action," Pavlo Klimkin told the annual gathering of OSCE ministers.
"We must raise the cost for Russia with comprehensive and tailored sanctions … There can be no business as usual."
The 57-nation OSCE, a security and human rights watchdog, has been rattled by the military and diplomatic stand-off between Russia and Ukraine, both of whom are member states.
But Russian Foreign Minister Sergei Lavrov appeared untouched by the wall of criticism that faced him in Milan, thanking hosts Italy for creating a "warm atmosphere" at the meeting and pinning the blame for years of escalating tensions with Kiev on Ukraine and its allies.
"Striving for dominance, a small group of countries uses blackmail, pressure and threats," Lavrov told the gathering in a cavernous conference centre in Italy's financial capital.
"Kiev (is) free from any punishment, shielded by its Western sponsors, who justify all its outrageous actions," he said.
FIGHTING
The United States and the European Union have imposed sanctions on Russia since 2014, when Moscow annexed Crimea, previously Ukrainian territory, after a pro-Russian leader was toppled in Kiev.
Fighting between Ukraine and Moscow-backed separatists in the Donbass region of eastern Ukraine has killed more than 10,000 people. Most of the fighting ended with a 2015 ceasefire, but deadly exchanges of fire are still frequent.
The unresolved crisis returned to the fore last month when Russian patrol boats fired on and seized three Ukrainian vessels in the Black Sea and captured 23 sailors.
Moscow has accused Kiev of orchestrating the clash, saying the Ukrainian boats had entered Russian waters — something Ukraine denies. Lavrov said on Thursday the move was a "provocation" and charged that Ukraine was seeking to sabotage any efforts to restore peace in the region.
But U.S., Canadian and European ministers dismissed his version of events and pledged their full support for Kiev, demanding the immediate release of the detained sailors.
"The Russian aggression was a miscalculation," said Wess Mitchell, the U.S. assistant Secretary of State for European and Eurasian Affairs.
"It has strengthened Western resolve to maintain sanctions against Russia and has galvanised the international community's efforts to ensure the respect of international law… It is time for Russia to rethink this approach," he said.
Canada's foreign minister, Chrystia Freeland, who has family roots in Ukraine, voiced her support for the country in Ukrainian in one session.
"Russia's illegal annexation of Crimea, its direct involvement in the conflict in the Donbass and now its illegal actions targeting Ukrainian sailors and vessels … cannot and must not be accepted by the international community," she said.
(Reporting by Crispian Balmer; Editing by Hugh Lawson)