Turkey's long crackdown casts shadow over EU meeting
Comments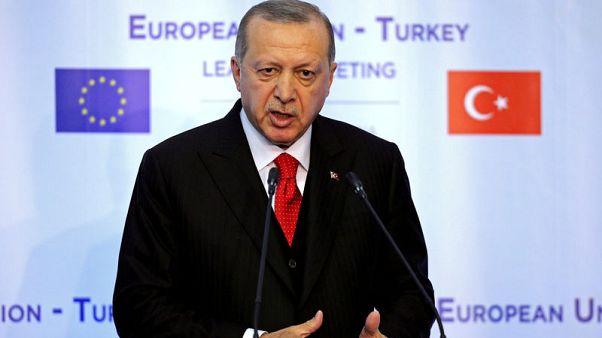 -
By Tulay Karadeniz and Can Sezer
ANKARA (Reuters) – Turkish police came for Yigit Aksakoglu before dawn, waking his young family and detaining him with a dozen other academics and activists accused of fomenting mass protests to overthrow President Tayyip Erdogan's government.
Friday's arrests, days before Turkey holds talks with the European Union, caused alarm in the West and reinforced a belief that Ankara's long crackdown has crushed not just Erdogan's opponents but also Turkey's last hopes of joining the EU.
The EU Commission's foreign affairs chief Federica Mogherini and the commissioner for candidate countries, Johannes Hahn, are expected to raise the issue of the activists during talks in Ankara on Thursday with Turkey's foreign minister.
Ankara still says EU membership is one of its top strategic goals, but Hahn has said several times it would be more honest to end the accession talks and try instead to forge an alternative partnership between Turkey and the union.
Opposition in the EU to Turkish membership has been strengthened by Ankara's clampdown on critics of Erdogan since a failed military coup in 2016 and by fears that Turkey is sliding deeper into one-man rule.
Aksakoglu's lawyer said he was one of 13 people detained on Friday, accused of supporting attempts by jailed businessman and rights advocate Osman Kavala to revive mass protests in Istanbul's Gezi Park in 2013 against Erdogan's rule.
Police rang on his door at 6 o'clock in the morning. "Two officers dressed in special operations uniform, and half a dozen others in plain clothes entered the house and took Yigit to police headquarters," his lawyer Asli Kazan told Reuters.
He testified for 10 hours before he was formally arrested and sent to prison. The 12 others detained on Friday have been freed, but Aksakoglu is now in a solitary cell in Silivri prison near Istanbul, his lawyer said.
On the same day Aksakoglu was detained, Turkish media said that prosecutors ordered the arrest of 188 people, including 100 former air force personnel, over links to a U.S.-based cleric Ankara accuses of orchestrating the 2016 coup attempt.
Since the failed putsch more than 77,000 people have been jailed pending trial, and widespread arrests are still routine. Authorities have suspended or sacked 150,000 civil servants and military personnel.
Last week Foreign Minister Mevlut Cavusoglu told parliament almost a quarter of Turkey's career diplomats had been purged. In the same speech he said full EU membership remains "an inseparable part of our future target for a modern Turkey that supports political and social change".
LONGROADAHEAD
Turkey says the scale of its crackdown is justified by the gravity of events on July 15, 2016, when rogue soldiers commandeered tanks, planes and helicopters, bombing parliament and government buildings in their attempt to seize power.
In July this year the government formally lifted a two-year state of emergency imposed after the coup, but critics say Erdogan has retained many of those powers under an executive presidency that came into effect when he won elections in June.
Relations with the EU's leading power Germany particularly suffered in the last two years. Berlin has condemned the crackdown, including arrests of dozens of German nationals. Erdogan compared the German government to Nazis.
As Turkey's relations with the United States plunged into crisis earlier this year, helping drive the lira into meltdown in August, Erdogan's government sought to rebuild bridges with Europe. He made a state visit to Germany in September, and the Netherlands agreed to normalise ties after a year-long standoff.
However an EU diplomat said any real improvement would take time: "You can't just turn a switch. You have to put the train back on track towards better relations".
Turkey has also taken small steps to reverse a damaging rift with the United States caused partly by the detention of U.S. citizens and consular staff.
A Turkish court ruling to free a detained U.S. pastor last month was praised by U.S. President Donald Trump and led both countries to lift symbolic sanctions against U.S. and Turkish government ministers.
But sharp differences over Syria, U.S. sanctions on Iran and plans by NATO member Turkey to buy a Russian missile defence system remain an obstacle to rebuilding trust with Washington.
An EU official, setting low expectations ahead of this week's talks in Ankara, said it was important to "keep open channels of communication" with Turkey.
Work towards EU visa liberalisation for Turkish nationals has been slow, and even the modest goal of modernising a customs deal remains blocked after EU member states said work should be suspended.
The EU official said their decision was linked to fears about rule of law and human rights in Turkey.
"We do understand the concerns of Turkey and we don't want to prevent Turkey from fighting terrorism," the EU official said. However "if you lock up bloggers or journalists because of them saying something, then it becomes an issue."
(Editing by Dominic Evans and Gareth Jones)
euronews provides breaking news articles from reuters as a service to its readers, but does not edit the articles it publishes. Articles appear on euronews.com for a limited time.