Beyond the setbacks, Macron's reform push begins to pay off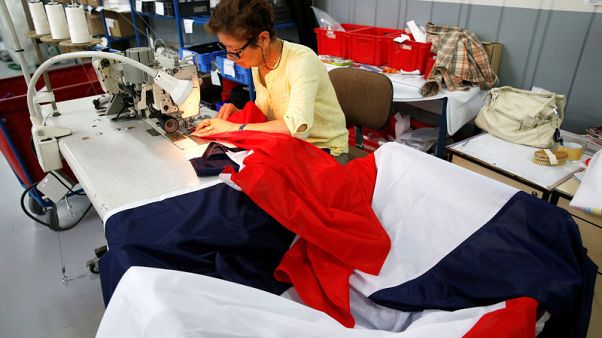 -
By Leigh Thomas
PARIS (Reuters) – While France has experienced political turbulence and disappointing economic data in recent months, beneath the surface are signs of deeper change that suggest President Emmanuel Macron's reform drive is starting to bear fruit.
For much of this year, the 40-year-old president and former investment banker has had to endure less-than-thrilling news on the economic front, with consumer and business confidence wilting and the growth outlook souring.
But looking past those lacklustre short-term indicators, employment and new business creations are at record levels and a purchasing power boost is around the bend.
Together, they are evidence of more meaningful, structural economic changes afoot that might one day, albeit not yet, help to stem a long-term decline in France's export competitiveness.
"There are some shifts that are starting to crop up," said economist Denis Ferrand, managing director of the Rexecode think tank, pointing in particular to a surge in the employment rate.
At nearly 66 percent, the proportion of people in work has reached the highest level in records going back to late 2003, which Ferrand said was an indication the economy's growth potential was shifting up a gear.
While Rexecode's growth forecast of 1.3 percent next year is lower than the government's estimate of 1.7 percent, Ferrand's colleagues believe that, over time, Macron's reforms will add 0.2-0.3 percentage points to annual growth.
France's employment rate: https://tmsnrt.rs/2OwNw53
VOTERSFRUSTRATED
Macron has promised pro-business reforms that boost investment and jobs. But voters have grown restless in the face of such slow growth.
His sometimes brash leadership style, and the desertion of several key ministers that triggered a messy reshuffle this week, have only added to their sense of frustration.
Yet despite such headline-grabbing setbacks, the labour market appears to be growing stronger, even though the unemployment rate remains stubbornly high at 8.7 percent.
People are not only getting jobs but also increasingly signing long-term contracts, once shunned by employers who feared they would not be able to lay workers off if business declined.
An overhaul of the labour code last year sought to address such worries by making it easier to both hire and fire.
"You can say what you want, but when you look at what he's done in the last 18 months, he's been very active … He went after big issues, like the labour market," said economist Jean-Herve Lorenzi, who runs the Cercle des Economistes forum.
Strikingly, the youth unemployment rate is dropping, despite the fact Macron's government is slashing the number of subsidised jobs that tended to benefit young people in the past.
Though still high, at over 20 percent, the rate is now the lowest since late 2008, at the start of the financial crisis.
Purchasing power: https://tmsnrt.rs/2OAbufE
NEWBUSINESSESBOOMING
Macron has also cut taxes on companies and capital in a move to boost investment, innovation and risk-taking.
Right on cue, new business creations promptly soared, and they show no signs of slowing despite the weaker economic outlook. A record 59,700 new businesses were set up in September, according to the INSEE official statistics agency.
Lorenzi cautioned, however, that "start-ups and industrial innovation can't make up the economy as a whole".
While companies and the wealthy got a tax cut, many voters feel left out, especially as they suffered social security and petrol tax hikes at the start of the year. An inflation surge further squeezed their finances.
To counter accusations of ruling for the rich, Macron's government is now focused on boosting household purchasing power, always an issue in France's consumer-driven economy.
INSEE says a cut in payroll tax this month and a cut in municipal tax next month should boost disposable income 1.7 percent in the last three months of the year, the strongest quarterly increase in 16 years.
But it remains clear that France still has a long way to go. Its share of exports from the euro zone to the world has stagnated at 12 percent, suggesting that Macron has made little progress in reversing its long-term competitive decline.
"The day we stabilise or even win back market share will be a sign of real structural change," said Ferrand. "But that's a structural indicator that has yet to show up."
Macronometer graphic package: https://tmsnrt.rs/2JH3um9
(Reporting by Leigh Thomas; Editing by Luke Baker and Kevin Liffey)
euronews provides breaking news articles from reuters as a service to its readers, but does not edit the articles it publishes. Articles appear on euronews.com for a limited time.