Soccer - French league boss sees positives in PSG domination
Comments
By Reuters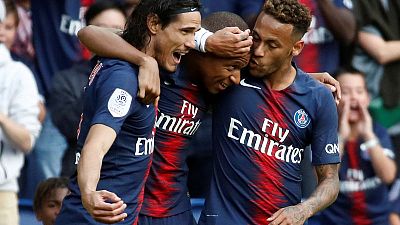 -
By Alan Baldwin
LONDON (Reuters) – Paris St Germain's domestic dominance has had no negative effect on the business side of French soccer, which is only growing in popularity, the head of the country's professional soccer association said on Thursday.
PSG, with Brazilian forward Neymar and French World Cup winner Kylian Mbappe in an expensively-assembled lineup, are already eight points clear of second placed Lille after nine games.
Champions five times in the last six years, the Qatar-owned club have won every match so far with 32 goals for and just six conceded in what now looks like one of the most one-sided leagues in Europe.
"PSG is the shop display of our championship for international development. And also to increase the audience," LFP chief executive Didier Quillot told Reuters at the Leaders Sport Business Summit at Chelsea's Stamford Bridge on Thursday.
"The economic impact of PSG on Ligue 1 is huge in terms of revenue creation and Ligue 1 brand exposure," added the Frenchman.
Quillot saw PSG's pre-eminence as part of a wider European phenomenon and said only England could truly boast a league where fans did not know from the start who would emerge as champions.
"In Germany, you know it's going to be Bayern (Munich). Italy, you know from day one it's going to be Juventus. Spain, it's going to be either Real or Barca. France, PSG," he said.
Quillot said television audiences for Ligue 1 were up 25 percent last year and attendances up seven percent.
He said that was "because people like the show, they like star players. PSG is a constellation of stars which people like to see. As of today, PSG's domination does not affect negatively at all my economic matrix."
France's triumph at the World Cup in Russia this year had also boosted the reputation of French football and made it a good time to get involved, added Quillot.
"We do consider that Ligue 1 is the next place to invest for many reasons," he said.
"We are world champions, we have the best academies in the world, we are the best country in terms of producing new talents… we have huge infrastructure after the Euro 2016, we have stars like Neymar and Mbappe.
"It's now the right time to come in France, to invest in France, to invest new money in France. We want to create this virtuous cycle with new money coming in, bringing stars, increasing the quality of the show, the attendance."
The domestic television rights for the 2020-24 cycle have been sold to Chinese-owned Mediapro for more than 1.15 billion euros, nearly 60 percent more than the previous five-year cycle.
Quillot hoped to see also a significant improvement on the international rights and talks were ongoing with Qatar-controlled beIN.
"If someone wants to invest 200 million, he has the choice between investing in a tier three English club where he will never participate in the Champions League or tier 1 French club where he can in two or three years participate in the Champions League," said Quillot.
"In terms of ROI (return on investment), it is by far more efficient to invest in France."
(Additional reporting by Tom Bergin, editing by Toby Davis)