Italy coalition eyes alternatives to economy minister Tria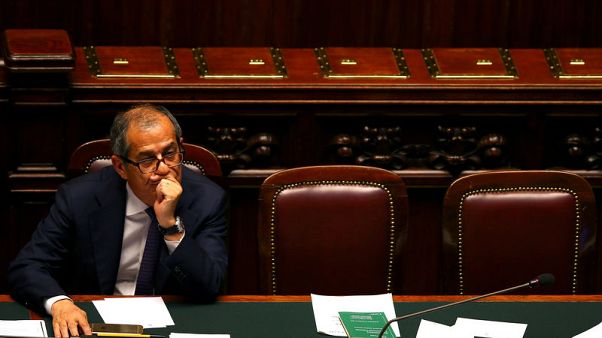 -
By Gavin Jones and Giuseppe Fonte
ROME (Reuters) – When a senior representative of Italy's ruling coalition met international investors over dinner last week he was asked at the end of the evening if he had any questions. He only had one: "What would you do if Tria goes?"
The episode shines a light on the precarious position of Economy Minister Giovanni Tria, who looks weak and isolated after caving in to party chiefs by agreeing to raise next year's fiscal deficit far above levels agreed with Brussels.
Tria had committed to holding the deficit below 2 percent of gross domestic product but buckled under pressure from the coalition to set a target of 2.4 percent in what was seen as a humiliating defeat for the economics professor.
He is now in the middle of a power struggle between his paymasters from the right-wing League and the anti-establishment 5-Star Movement who need money to fulfil election pledges, and a European Union that is insisting on fiscal constraint.
Investors are nervous. Italian 30-year bond yields hit a four-year high on Tuesday above 4 percent on concerns talks between the coalition and Brussels could turn sour, with Tria, the face of economic moderation, side-lined.
"Tria is a good and competent person but I don't think he has yet fully understood his role," the coalition official said at the dinner, attended by a Reuters reporter, in an exclusive restaurant in Rome.
"He has tended to behave like the CEO of a private company who can act autonomously, but it's not like that, this is a political government, not a technocratic one," he said.
Tria's spokeswoman said she would not comment on remarks from unnamed people. She said the fact Tria had pushed for a lower deficit target than was finally agreed was part of a normal process of negotiation within governments everywhere.
However, the awkward relationship between Tria and party chiefs is likely to end within a few months, three political sources said, either because Tria walks or because he is pushed.
"Tria wants to go, and we are fed up with him, but nothing will happen before January because first we have to approve the budget in parliament," a second senior coalition source said.
Tria's spokeswoman said he had no plans to resign.
DIFFERENT OPTIONS
Officials from both the League and 5-Star have grumbled frequently in private that Tria, a 70-year-old academic who is not a member of either party, seems to have his own agenda.
A virtually unknown economics professor at Rome's Tor Vergata University https://web.uniroma2.it/home/newlang/english, Tria was drafted into the government as a last-minute replacement for Paolo Savona, who was vetoed by the head of state because of his criticism of the euro currency.
Tensions came to a head over the budget, when 5-Star was particularly exasperated with Tria's reluctance to fund their flagship policy of a basic income for the poor.
"Nobody has asked for Tria's resignation, but I expect the economy minister of a government for change to find the money for Italians who are momentarily in economic difficulty," 5-Star leader Luigi Di Maio said as relations soured.
The senior official at the Rome dinner said he did not rule out that Tria could remain in his post, but admitted that the coalition partners had discussed different options on several occasions.
In the case of Tria's departure, the most likely successor would be Massimo Garavaglia, a League lawmaker who is a deputy economy minister, the official said.
Garavaglia is seen as a moderate, pro-euro pragmatist who was formerly the budget chief of the wealthy Lombardy region.
"Tria hasn't fitted in with our way of thinking," said a third source, a 5-Star government member who asked not to be named.
WALK OR BE PUSHED?
Tria may decide to walk, even if he is not pushed.
An economy ministry source and an institutional source told Reuters last week that Tria had told aides he planned to resign after the budget has been approved by parliament at the end of the year. Neither had spoken to Tria directly about the matter.
Asked to comment, Tria's spokeswoman said he had no intention of resigning at any time and had never expressed such an intention to anyone.
Tria's relations with 5-Star and the League had got off to a bad start when he insisted on reappointing incumbents or naming mainstream, economy ministry figures to key posts – riling the new ruling parties who wanted to sweep away the establishment.
"Things started to fall apart in June over the public appointments," the second coalition source said.
The parties had painstakingly hammered out an agreement on who should be named Treasury director general and the head of state holding company Cassa depositi e prestiti https://en.cdp.it, only for Tria to intervene and demand fresh negotiations, the source said.
Suspicions then increased over the budget, with the minister creating financial market expectations of a deficit target far below what the parties were ready to accept.
Tria's departure would be unlikely to go down well with markets, even though his credibility as a guarantor of public accounts has been damaged by his climbdown over the budget.
In response to the coalition official's question at the dinner in Rome, most of the investors from banks, asset managers and hedge funds said they would be unhappy to see Tria go. Some said they would wait to see who his successor was. Others said they would sell some of their Italian assets.
(Additional reporting by Luca Trogni in Milan; editing by David Clarke)
euronews provides breaking news articles from reuters as a service to its readers, but does not edit the articles it publishes. Articles appear on euronews.com for a limited time.