Philippines' Duterte alleges coup plot based on tip from a foreign power
Comments
By Reuters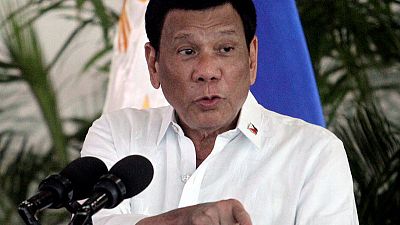 -
MANILA (Reuters) – Philippine President Rodrigo Duterte on Tuesday revealed what he said was a plot to unseat him hatched by the opposition, Maoist rebels and a group of former soldiers who had mounted failed coups in the past.
In a conversation with his lawyer, shown on national television, Duterte said he had asked the military to "declassify" information about the plot which he said was gathered by a third country he did not identify.
"We have the evidence and we have the conversation provided by a foreign country sympathetic to us," Duterte told Salvador Panelo, presidential legal counsel, in an hour-long conversation.
He said the Communists, politicians opposed to him and a group of ex-servicemen, including a senator he wanted arrested after revoking his amnesty, "were in constant communication".
Duterte said the "connection will be shown, maybe any day now".
Last week, Duterte withdrew a 2010 amnesty granted to his most vocal critic, Senator Antonio Trillanes, a former junior naval officer who led two unsuccessful coup attempts 15 years ago, and ordered his arrest.
Trillanes' party-mate, Congressman Gary Alejano, who also took part in the failed coups, denied the president's accusations they were plotting his ouster, saying they were only doing their work as "members of the opposition under the checks and balance system of our democratic government".
Alejano said the president was trying to "divert the attention of the people from the present economic woes they themselves have failed to address".
Duterte also warned soldiers against "colluding" with Trillanes' group as coup rumours swirled in the capital early on Tuesday after army trucks and armoured vehicles were seen rolling down Manila's main roads.
The military quickly denied there were "sizeable movements of military aircraft or armoured vehicles".
"There is no cause for alarm," military spokesman Marine Colonel Edgard Arevalo told reporters, adding these were "routine movements that are properly coordinated".
(Reporting by Manuel Mogato; Editing by Nick Macfie)