'Hurry up,' Calais region urges EU, UK leaders as no-deal Brexit looms
Comments
By Reuters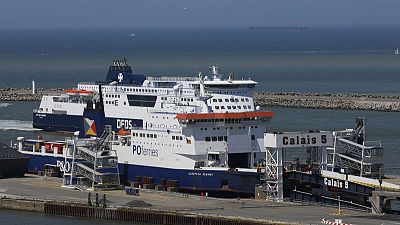 -
By Michel Rose
PARIS (Reuters) – Time is running out for regions on the frontline of trade between Britain and Europe to cope with the impact of a no-deal Brexit, from finding vets to building customs infrastructure, a northern French region's "ambassador" to Britain said.
Jean-Paul Mulot of the Hauts-de-France region that is home to Calais, France's busiest passenger port and a major cargo thoroughfare, said the two sides needed focus on finding agreement and stop talking about a no-deal scenario.
"Hurry up, and above all, avoid a 'no-deal'," Mulot, who is based in Britain, urged both sides.
"Today, we're hearing political leaders at the highest level admit that a 'no-deal' is possible, even worth considering," he said in an interview with Reuters. "That's extremely worrying."
The fortunes of Calais and the wider Hauts-de-France region are closely intertwined with the UK's future trade ties. But with little more than seven months to go until Britain leaves the bloc there is still no agreement on divorce terms or clarity on a new trade relationship.
Last month, London told British companies trading with the EU they would face a tangle of red tape and possible border delays if there is no exit deal.
Mulot lamented the impact that squabbling inside Prime Minister Theresa May's Conservative party was having on the direction of negotiations.
"We need stability," he said. "Otherwise we are going to miss the deadline. The deadline was supposed to be the end of October. We are now talking about December."
A no-deal or even a 'hard Brexit' would hurt the Calais region.
Some 7,000 trucks go through its ports and the Channel Tunnel rail crossing every day, and a 'hard Brexit' whereby the UK leaves the EU's single market would require building new customs and sanitary infrastructure.
The region has put an option on a plot of land where it plans to build the new infrastructure, which Mulot estimates could cost more than 100 million euros (89.9 million pounds). Questions remain as to whether Brussels, Paris or the region would foot the bill.
Building the facilities, including refrigerated warehouses, would take at least 18 months, making a transition period after March 29 necessary, he added.
"Levelling the land alone would take six months. The idea of setting up everything in just three months is impossible," he said. "The transition period for us is crucial."
While France is hiring extra customs officers, a shortage of veterinarians for livestock checks in the EU is another headache authorities on both sides of the Channel will have to deal with, he said.
"There are many good vets coming from Romania, Bulgaria, but even eastern European countries can't train enough vets to meet the needs," Mulot said.
Freight lines coming from Spain and Italy and carrying fresh vegetables to British supermarkets through the Channel Tunnel would also run into difficulties to keep just-in-time delivery habits.
"The repercussion chain goes beyond the Alps and the Pyrenees," he said.
(Reporting by Michel Rose; Editing by Richard Lough and Catherine Evans)