Myanmar rejects 'false allegations' in U.N. genocide report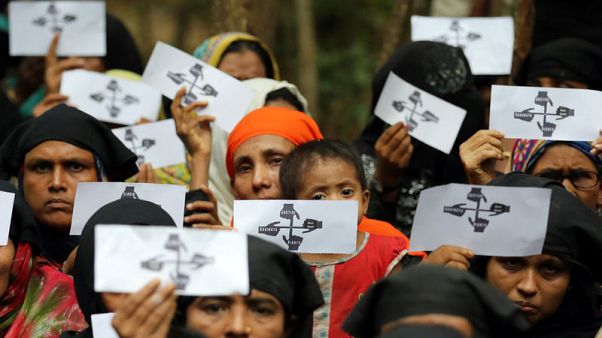 -
By Poppy McPherson
YANGON (Reuters) – Myanmar rejected on Wednesday a report by United Nations investigators that called for top generals to be prosecuted for genocide, saying the international community was making "false allegations".
The U.N. report marked the first time the organisation has explicitly called for Myanmar officials to face genocide charges over a brutal crackdown on Rohingya Muslims last year.
"Our stance is clear and I want to say sharply that we don't accept any resolutions conducted by the Human Rights Council," the main government spokesman, Zaw Htay, said in an interview published in state media.
The fact-finding mission on Myanmar was established in March 2017 by the U.N. Human Rights Council.
Myanmar did not allow U.N investigators to enter the country, Zaw Htay said, adding: "That's why we don't agree and accept any resolutions made by the Human Rights Council".
He said the country has "zero tolerance to any human rights violation" and had set up a Commission of Enquiry to respond to "false allegations" made by the U.N. and "other international communities".
The government earlier this year set up a panel comprised of two Myanmar and two international members – Filipino diplomat Rosario Manalo and Kenzo Oshima, Japan's former ambassador to the U.N. – to investigate human rights abuses.
Myanmar has denied most of the allegations, saying the military responded to a legitimate threat from Rohingya militants, who attacked police posts across the western Rakhine state.
"If there is any case against human rights, just give us strong evidence, record and date so that we can take legal action against those who break the rules and regulations," Zaw Htay said.
Malaysia's foreign ministry said on Wednesday it was Myanmar's responsibility to take action against those to blame for the alleged genocide committed in Rakhine State.
Should Myanmar prove "unwilling or incapable of ensuring justice", the U.N. Security Council should step in and establish an international judicial mechanism to try the individuals most responsible for the crimes, the ministry said.
"Malaysia will continue to speak about the plight of the Rohingyas. We will also continue to call for international support for the Government of Bangladesh, in which close to a million Rohingyas have found refuge," Malaysian Foreign Minister Saifuddin Abdullah said in the statement.
Around 700,000 Rohingya have fled the military crackdown in western state of Rakhine to neighbouring Bangladesh, according to U.N. agencies. They joined nearly 200,000 Rohingya who had been already been living in camps there for years.
In the Bangladesh capital Dhaka, State Minister for Foreign Affairs Shahriar Alam told reporters the U.N. produced "the most comprehensive, factual and crucial report since the attack in August last year".
Alam said it was natural for Myanmar to reject the report, but he added: "That does not matter. The world knows everything".
On the same day that the U.N. released its report, Facebook shut down the account of army general Min Aung Hlaing and other top military officials, accusing them of using its platform to spread "hate and misinformation".
In the interview published on Wednesday, Zaw Htay said the government had not ordered the ban and was questioning Facebook about the action, saying it had caused "mounting criticism and fear among the people".
Myanmar's civilian government shares power with the military, which controls key ministries including home affairs and immigration.
(Reporting by Poppy Elena McPherson in YANGON; Additional reporting by Joseph Sipalan in KUALALUMPUR and Ruma Paul in DHAKA; Editing by Richard Pullin and Darren Schuettler)
euronews provides breaking news articles from reuters as a service to its readers, but does not edit the articles it publishes. Articles appear on euronews.com for a limited time.