German conservatives push for tax cuts as revenues rise
Comments
By Reuters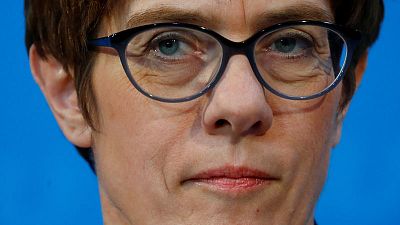 -
BERLIN (Reuters) – Leading members of Chancellor Angela Merkel's conservatives are calling for tax cuts after the public sector surplus soared to a record high of 48.1 billion euros (43.14 billion pounds) in the first half of the year.
Annegret Kramp-Karrenbauer, general secretary of Merkel's Christian Democratic Union (CDU), told the mass-circulation Bild newspaper Germany should accelerate moves to phase out the "solidarity tax" introduced after reunification to support poorer states in eastern Germany, a move now planned for 2021.
"We have to reduce the burden on normal citizens in the middle," she said, according to excerpts of an interview to be published on Tuesday. She said the tax relief should be targeted at families with smaller and middle incomes.
Markus Blume, general secretary of the Bavarian conservatives, the CDU's sister party, told the newspaper: "The solidarity tax should be completely abolished in this legislative period."
Finance Minister Olaf Scholz, a member of the Social Democrats – junior partners in the coalition – last week said the higher-than-expected surplus gave the government extra room for manoeuvre.
Scholz has called for moves to ensure stable pensions until 2040, far beyond the current plan to do so until 2025.
(Reporting by Andrea Shalal; editing by Andrew Roche)