Afghans, Syrians help German companies to fill training vacancies
Comments
By Reuters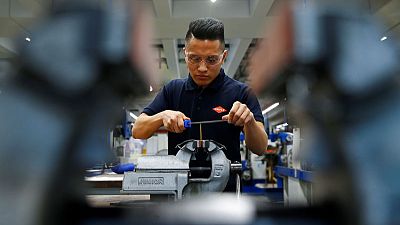 BERLIN (Reuters) – German companies last year managed to attract more apprentices to their dual-track vocational training schemes due to a surge in applications from asylum seekers from Afghanistan and Syria, data showed on Wednesday.
Skilled labour shortages and a lack of young people willing to start on-the-job training for up to 3-1/2 years have become the biggest concerns for managers in Europe's largest economy.
The number of vacancies for training positions has reached its highest for more than 20 years as more than a third of companies can not fill all of their training places, according to business surveys.
However, the arrival of more than 1 million asylum seekers in Germany since 2015 has helped to ease the problem slightly, data from the Federal Statistics Office showed on Wednesday.
The number of new trainees with no German citizenship rose by 10,500, helping to lift the overall number of new vocational training contracts by 5,700 to 515,700 in 2017, the data showed.
Interest in vocational training was particularly strong among young men from Afghanistan and Syria as their number among the new apprentices more than tripled, the office said.
Without the applications from Syrians and Afghans, German companies would have ended up with fewer new trainees.
Germany's dual-track training system, which also includes theory lessons at vocational schools, is being exported in various forms to Europe, Asia, Africa and the United States. But its popularity is waning at home as young people increasingly prefer the higher status of a university degree.
That could hurt growth in Europe's biggest economy by exacerbating a skilled labour shortage, which is partly caused by hundreds of thousands of ageing employees leaving the labour market every year.
The statistics office said that the number of dropouts in vocational training fell slightly last year as roughly 146,000 training contracts were terminated prematurely.
(Reporting by Michael Nienaber and Holger Hansen; Editing by Alexandra Hudson)