Germany's 'miserly' Scholz irks comrades at home and abroad
Comments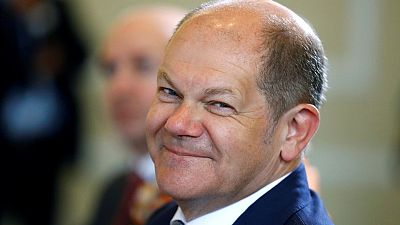 By Michael Nienaber
BERLIN (Reuters) – Germany's new Social Democrat finance minister, Olaf Scholz, is frustrating both key ally France and his own struggling centre-left party by adopting the same fiscal rigour as his conservative predecessor, Wolfgang Schaeuble.
During his first two months as treasury chief of Europe's largest economy, Scholz has committed to a continued goal of no new debt and limited public spending.
It is a strategy the 59-year-old hopes will help revive his Social Democratic Party (SPD), which suffered its worst post-war result at last year's elections, by proving he can manage the public finances of the world's fourth largest economy.
But the strategy risks alienating his party's core supporters at home, who would like to see more spending on education, infrastructure and social housing, and complicating the search for a Franco-German compromise on euro zone reforms.
Scholz's strategy is already proving a source of frustration among some fellow euro zone members, who had hoped the inclusion of the centre-left SPD in Germany's governing coalition would steer the EU's economic powerhouse to invest more domestically and boost growth in other countries through higher imports.
That includes Germany's most important ally.
French President Emmanuel Macron earlier this month urged Germany to wean itself off the "fetish" of fiscal conservatism, warning that such policies were always made at the expense of other countries.
In a speech to German lawmakers days after Macron's comments, Scholz hit back: "We act pragmatically and properly – and do not worship a fetish."
Scholz, who publicly embraces comparisons to his conservative predecessor's fiscal approach, is defending the idea of maintaining a balanced budget while dismissing the assertion that Germany is too strict on spending.
Asked why Scholz is ignoring Macron's plea, a finance ministry spokesman pointed to constitutionally enshrined borrowing limits and the coalition deal to finance any additional spending without new debt.
"Thanks to the favourable, prolonged upswing, it's also a quite academic debate because we can now massively hike public investments without taking on new debt," the spokesman added.
HEALTHYGROWTH
The German economy grew by a calendar-adjusted 2.5 percent last year, the strongest rate since 2011, propelled by strong domestic and foreign demand. Despite slowing in the first quarter, it is expected to keep growing at a healthy pace.
Europe will also be watching to see if Scholz takes the same approach to the EU as his predecessor, who was reviled in countries such as Greece for imposing unpopular public spending cuts in return for bailout aid.
That includes his approach to Italy, which for many European leaders has become the euro zone's greatest concern given its hefty public-sector debt and lavish spending plans by leading parties.
Further political instability looks inevitable after Italy's president set the country on the path to fresh elections, likely to be fought over its role in the European Union and euro zone.
Scholz wants to avoid the impression that Europe is split at a time when the continent is challenged by new trade and sanctions policies of U.S. President Donald Trump.
"That Europe acts here as one is a good message – both internally for our citizens and to the outside," Scholz said after talks with European counterparts in Brussels on Friday.
This message of unity, however, masks lingering differences on how to balance France's call for more solidarity and Germany's insistence that tax payers in richer countries should not end up paying for governments' failures in poorer ones.
Scholz has poured cold water on some of Macron's proposals for euro zone reform, including the need for a common finance minister with his own budget.
Together with his French counterpart Bruno Le Maire, Scholz is working to define a common roadmap on euro zone and banking reforms to be presented at the meeting of EU leaders in June.
"The talks are tough, but there will be a compromise," a person close to Scholz said.
One way the new finance minister wants to differentiate himself from Schaeuble on the European stage is by taking a less confrontational approach and striking a less instructive tone towards other governments, the person said.
Earlier this year, Scholz said that Germany shouldn't "dictate" economic policies to other European countries.
"MISERLYFACE"
At home, Scholz's has frustrated some in his own party with his first budget earlier this month.
Scholz, who German media have dubbed "Olaf Schaeuble", outlined a continued policy of taking on no new debt.
He said he plans to use higher-than-expected tax revenues to reduce taxes for workers on low and medium incomes and increase investment in digitalization, but said room for further spending hikes was limited.
While Scholz has the backing of Chancellor Angela Merkel, some SPD members doubt whether lowering taxes is the right strategy when the party's main election promise was to hike investment in education, housing and infrastructure.
Further fuelling frustration in the SPD, one of Scholz's first decisions as finance minister was to name a former Goldman Sachs banker, Joerg Kukies, as his deputy with responsibility for financial market policy and European issues.
Kevin Kuehnert, leader of the SPD's youth wing who was the most vocal opponent of joining another coalition under Merkel's conservatives, said Scholz's approach was "far away from a new SPD" which was needed to win back voters.
For Kuehnert, the SPD risks losing its identity and becoming superfluous while in power.
For Scholz, defying leftist stereotypes and copying Schaeuble are part of his strategy for winning the next election, according to another person familiar with his thinking.
"He is deeply convinced that the SPD can only win elections if the party has politicians that embody virtues such as prudence, solidity and reliability," said the source.
Shortly after taking the helm of the finance ministry in March, Scholz embraced the notion of the depoliticalization of his office: "A German finance minister stays a German finance minister. And I will put on my most miserly face."
The concept is familiar in Germany, where many people favour cautious budget planning and fiscal conservatism. Parties have enshrined a "debt brake" in the constitution, which imposes a borrowing limit for the federal government of up to 0.35 percent of economic output, roughly 10 billion euros ($11.7 billion).
But Scholz has rejected using even this, a move his advisers say is not to scare away voters who view taking on new debt as a taboo.
Some officials from Merkel's conservative bloc acknowledge Scholz's strategy could pay off.
"He is showing voters: Look, I am able to handle money although I'm a leftie," a senior CDU member said on condition of anonymity, adding that Scholz's strategy was reminiscent of former SPD Chancellor Gerhard Schroeder's.
Within only ten weeks, Scholz has become one of Germany's most popular politicians with an approval rating of 46 percent, up 6 points on the month and trailing Merkel by only 5 points, according to DeutschlandTrend survey for broadcaster ARD.
But his party so far has failed to benefit from this. The latest Emnid poll for Bild am Sonntag newspaper put the SPD, Germany's oldest party, at only 17 percent, below the 20.3 percent it scored in last year's election.
"Scholz's strategy poses a huge risk for the SPD because the party won't be able to move out of the shadow of Merkel's conservatives," said political scientist Gero Neugebauer from the Free University Berlin.
The first big electoral test for the SPD and Scholz, a former mayor of Hamburg in Germany's north, will come in October when Bavarians vote in a regional election.
The southern state has never been an SPD stronghold, but the projected 13 percent for the party would be a nightmare even by Bavarian standards, putting it on a par with the far-right Alternative for Germany (AfD).
($1 = 0.8584 euros)
(Additional reporting by Paul Carrel in Berlin, Leigh Thomas in Paris and Peter Maushagen in Brussels; Editing by Cassell Bryan-Low)
euronews provides breaking news articles from reuters as a service to its readers, but does not edit the articles it publishes. Articles appear on euronews.com for a limited time.