Think of investment return, UNICEF chief tells Europe
Comments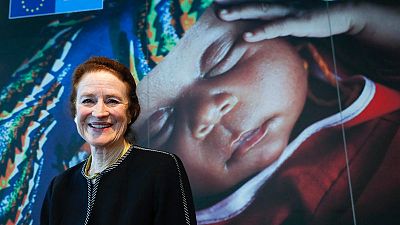 By Alastair Macdonald
BRUSSELS (Reuters) – European governments facing aid fatigue among voters should see payments to help the foreign poor as a high-yield investment in their own future, the head of U.N. children's agency UNICEF said on Friday.
In Brussels to see key donors as the European Union begins tense negotiations on a long-term EU budget that will be hit by Britain's Brexit departure, UNICEF Executive Director Henrietta Fore said that while immediate crises tugged at heart strings, wealthy states should also view aid as a long-term investment.
"There is much more to be done … making the case for long-term investment," the former U.S. diplomat and business leader, who took over UNICEF in January, said of persuading governments to support a body which gets about half its funding from Europe.
"Your heart immediately wants to help in crises," Fore said, noting some 300 such situations every year such as the flight of Muslim Rohingya from Myanmar, and describing the EU as generous.
"But there is a very important case made for development – that if you can…give children and young people a chance, that then you will have communities that are peaceful and prosperous, that you will have prosperity and peace across the entire world. Isn't that also well worth investing in?"
Asked about criticism from some that the EU risks diverting aid from development toward security measures to stop Africans reaching Europe, Fore said: "Longer-term investments will have a larger pay-off – but it is sometimes hard to make that case."
She cited the example of investments of as little as 50 cents a year per child in primary education in Africa to promote literacy and numeracy as a high-yield use of Western money.
"That becomes then a market for goods and services. So it is not only stability and peace but it is prosperity for Europe … The return will be manifold in the decades to come.
"You need to be able to prove to your people that the tax money that is going towards development is being well used.
"That every single euro is put to good use, and so you have to make the economic argument."
TEENAGERS
Businesses, Fore said, often appeared quicker to see those advantages than governments, noting a new UNICEF drive for partnerships with the private sector to promote "life skills" for the 1.2 billion people in the world aged 10 to 18 who face opportunities and challenges in a fast-changing digital economy.
"They are either a ticking time bomb," Fore said of a generation posing major employment problems for many countries – "or the greatest opportunity we have in the world today."
In her first few months, Fore has had to field frequent questions from donors about policies to counter sexual abuse by aid workers after a scandal blew up in February over Oxfam.
"Every donor asks of that," she said. "But their questions are important and it is adding a really useful urgency."
With its focus on children and young adults, she said, UNICEF was particularly attentive to the issue and was looking into a number of cases, including some very dated or that had been previously investigated and closed.
"We look at every corner," she said.
(Editing by Mark Heinrich)
euronews provides breaking news articles from reuters as a service to its readers, but does not edit the articles it publishes. Articles appear on euronews.com for a limited time.