North Korea summit cancellation a setback to dealmaker Trump
Comments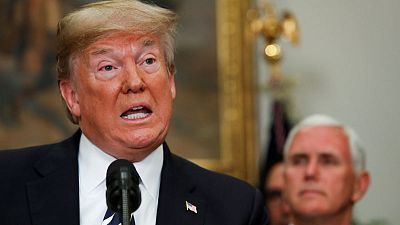 By Jeff Mason
WASHINGTON (Reuters) – President Donald Trump drew gasps at the United Nations General Assembly last September when he threatened to "totally destroy" North Korea.
Eight months later, he said "everyone" thought he should get the Nobel Peace Prize for a new approach to North Korea that aimed to put him at a table with its leader, Kim Jong Un, to negotiate over denuclearization.
Now that planned meeting, scheduled for June 12 in Singapore, is off, capping a months-long back-and-forth with nuclear-armed Pyongyang and denying Trump the foreign policy victory he craved.
After an abrupt change in North Korea's diplomatic tone, the U.S. dealmaker in chief found himself deciding to back away, reluctantly, from a historic summit with someone he used to call "Little Rocket Man."
Trump had raised expectations especially high for the get-together. He abandoned the heated rhetoric that had spurred concerns about war and adopted a conciliatory tone toward Kim, whom he referred to as open and honourable.
As late as Tuesday, during a meeting with South Korean President Moon Jae-in, Trump said the summit would be positive for the world and could happen in the future if not next month.
"It has a chance to be a great, great meeting for North Korea and a great meeting for the world," he said.
Two days later, Trump cancelled.
"I felt a wonderful dialogue was building up between you and me," the president wrote in a letter to Kim, making clear how badly he wanted the meeting to take place. "If you change your mind having to do with this most important summit, please do not hesitate to call me or write."
A senior administration official said Trump himself dictated the letter, which also warned North Korea that U.S. nuclear power was vastly superior to Pyongyang's.
MISSEDOPPORTUNITY
Speaking at a White House event after the release of the letter, the president said the cancellation was a setback for North Korea and the world.
It was also a setback for Trump.
After pulling the United States out of the Iran nuclear deal and aggravating allies with trade tariffs on steel and aluminium,
a potential success with Kim would have created an opportunity for the former New York businessman and his supporters to tout his unconventional style as beneficial to countries worldwide.
"It would have been a tremendous coup if the summit had gone forward and it had produced something significant," said William Galston, a senior fellow at the Brookings Institution and a political analyst.
Now, at least for the time being, Trump is in the same position as his predecessors, whom he has criticized repeatedly – even mocked – for failing to deal adequately with North Korea's nuclear threat.
It also leaves the administration's diplomatic initiatives in a weakened state. Seeking a denuclearization deal with North Korea was a top priority for a leader who came to the White House on a political promise of putting "America first" while withdrawing from international agreements on climate change and Iran.
The summit's demise also removes a factor that may have been helping Trump's political prospects domestically.
The president, who has been raging against a special counsel's probe of his 2016 presidential campaign and potential collusion with Russia, has seen his favourability rise in some polls in recent weeks, with some pointing to his movement with North Korea as a factor in his rising popularity.
GIVINGAWAYLEVERAGE?
It is too early to tell whether the cancellation will hurt him politically, but Whit Ayres, a political consultant, said it could have been worse if the summit had taken place and failed.
"Cancelling an unproductive summit is better than having an unproductive summit," Ayres said.
Critics said Trump accomplished little with his efforts, leaving North Korea a nuclear power and handing away U.S. leverage by agreeing to meet with Kim in the first place.
"By agreeing to a leadership summit with Kim, Donald Trump gave away a good deal of America's leverage in exchange for nothing in return from the North Koreans," wrote Jamie Metzl, senior fellow in Atlantic Council's Scowcroft Center for Strategy and Security.
The diplomatic push did provide at least one diplomatic success: the safe return of three Americans who had been held prisoner in North Korea. Trump welcomed the men home at Joint Base Andrews near Washington earlier this month.
But with congressional elections coming in November, Trump could have used an even greater success to bolster fellow Republicans' argument that they should hold on to control of Congress.
Barring another turnaround on the Korean Peninsula, such a success is now unlikely to be connected to a nuclear deal with Kim Jong Un.
(Reporting by Jeff Mason; Editing by Yara Bayoumy and Peter Cooney)
euronews provides breaking news articles from reuters as a service to its readers, but does not edit the articles it publishes. Articles appear on euronews.com for a limited time.