Possible US China trade war threatens global growth
Comments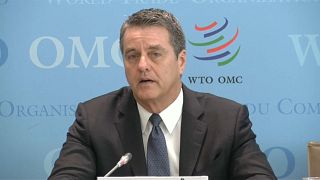 The World Trade Organisation warns the battle between China and the US over tariffs is threatening global growth.
Figures show global trade grew at its fastest for six years in 2017.  And the outlook is good but only if a full blown trade war is avoided.
"These forecasts do not, and I repeat, they do not factor in the possibility of a dramatic escalation of trade restrictions," emphasised WTO Director General, Roberto Azevedo.
Figures just released show China is the world's largest exporter of goods followed by the United States. But these positions are reversed when it come to which country imports the largest number of goods with the US here topping the table.
For the moment, Azevedo is confident a US tariff's battle with China is not on the cards.
"I have no indication whatsoever that the US is planning to walk out and they have not attached their permanence in the WTO to any kind of outcome - either in negotiations or dispute settlement or anything of the kind," he said.
The WTO says world trade will grow nearly as fast this year as 2017 with a slightly lower level forecast for 2019.