Michael Georgiades: No Turkish soldiers
Comments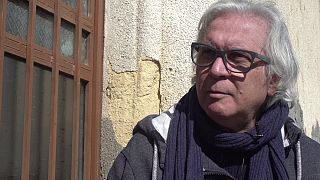 Michael Georgiades, a Greek speaking Cypriot, shows Euronews reporter Hans von der Brelie a mud-brick house in northern Cyprus: at the age of 18, Michael and his family fled Morphou.
Today, the town is called Güzelyurt by the Turkish speaking Cypriots living here. Michael wants his property back, not just the house, but also his father's huge orange orchards nearby Morphou.
The region is under (internationally not recognised) Turkish Cypriot administration. Property has been at the core of the recent negotiations between Greek Cypriot President Nicos Anastasiades and Turkish Cypriot leader Mustafa Akinci.
Both exchanged maps – for the first time in history – outlining the future borders of a future federation. But Morphou seems still to be a major stumbling block: will Morphou be handed back to Greek administration or not? How many refugees (having left the citiy in 1974) want to come back? Who pays for rehousing and/or financial compensation? What will sustain the economy? What will happen to the estimated 30,000 to 40,000 Turkish soldiers based in the northern part of the split island?