Hatice & Larkos: We are Cypriot Cypriots
Comments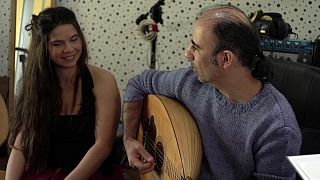 Larkos and Hatice perform in the Greek and Turkish languages. Their group is called "Kyprogenia", a collective with musicians from northern and southern Cyprus.
But there is more: real love! Larkos and Hatice have been married since 2014. Larkos Larkou – a native Greek speaking Cypriot – and Hatice Ardost – a native Turkish speaking Cypriot – are among a small, but growing community of mixed-marriage Cypriot couples, transcending the island's mental and physical divisions.
They were awarded by Sir Stelios Haji-Ioannou with the "Stelios Cyprus Bi-Communal Award 2016", an award given to those Cypriots having contributed to establish lasting peace on the still divided island.
Euronews reporter Hans von der Brelie met them at home, in a small village called Kiti, close to Larnaka. "This is one culture", Larkos insits, "the food we eat, the cloth we sew, the music we sing and play…" – Hatice joins in: "We are Cypriot Cypriots and we are coming from the same origin."