Summit up in Brussels as Greek proposals give food for thought and rumours fly
Comments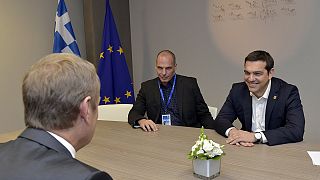 The latest Greek proposals for digging their way out of their debt hole appear to have made tonight's emergency EU summit almost redundant, as everyone will need time to study them.
This means tonight is less of a default deadline, and more a stay of execution if the proposals are rejected.
The eurogroup's finance ministers have already met, and now say they will meet again this week.
"I don't think we're gong to see a breakthrough, usually when you have low expectations you get a high outcome, and now I think the expectations have been raised way too high and today I don't see a way forward. Why? Becauise the institutions, the ECB, the Commission, the IMF have not been dealing with any kind of proposal the euro working group has been dscussing, and now we go into the eurogroup so I think this day is going to be a non-entity I'm afraid," said Finland's Finance Minister Alex Stubb.
Rumours are suggesting that the summit will in fact be cancelled and will be just a less formal meeting, and that the Greek proposals amount to nothing much.
"With all the pessimism already overshadowing today's talks, officials say there will be another meeting of eurozone finance ministers later this week. The big question is, however: just how is it that both sides are so far apart after months of negotiations?" says euronews' James Franey.
Latest updates