Ukraine: Conflict could soon be over says optimist President Poroshenko
Comments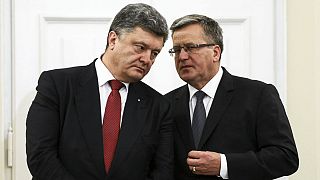 Ukrainian President Petro Poroshenko has declared the conflict with Russia could be resolved within weeks.
At the same time he also expressed a desire for more Western aligned security for his country.
His comments came on a visit to Poland as Warsaw ratified the EU-Ukraine association agreement which lies at the heart of the crisis.
A cautious Federica Mogherini who is the EU's foreign policy chief has also admitted she has observed Russian moves to lessen tensions.
However she also stressed that even though there had been what she described at 'expressions of a willingness' to resolve the crisis, she hoped there would be concrete acts to follow.
Poroshenko may be the only optimist in Kyiv. Ukrainian government ministers have stated they are also more interested in actions rather than words from Moscow according to foreign affairs spokesman, Yevhen Perebyinis:
"We want practical steps by which we mean the withdrawing Russian troops and a halt to the weaponry, military hardware and Russian armed forces crossing the Russian-Ukrainian border."
Since September's Minsk agreement a ceasefire has been flouted on both sides. And Poroshenko's remarks about western aligned security are seen as wanting to join NATO but that's sure to anger Moscow.
"Ukraine is waiting for the Minsk contact group to meet on Sunday. Officially Kyiv has seen no evidence of Russia wanting to resolve the conflict and keeps on demanding actual steps, as written down in the Minsk protocol," said euronews reporter Angelina Kariakina.