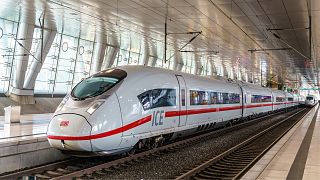 Cross-border rail travel in the EU is set to get faster, more frequent and more affordable under a new plan to boost green transport.
"While demand for green mobility is growing, we need the rail market to respond much better and much faster, especially for long and cross-border journeys," says European Commissioner for Transport Adina Vălean.
"This is why the European Commission now wants to help rail companies create new international train connections - by day and by night - by breaking down the many barriers to cross-border rail."
Helping with coordination, regulations and promotion - rather than direct funding - the European Commission will start the pilot with 10 new services. Its goal is to break down barriers between railway operators and authorities in different countries. It is hoped the project will inspire other operators and countries to get on board.
Under the pilot scheme, all services must begin no later than December 2029. Many of them will launch much sooner, though not all of them have defined dates yet. Here's a breakdown of the new services in order of the Commission's proposed timeline.
10. Train services connecting Hungary, Austria and western Romania
In partnership with the Hungarian Ministry of Transport, the first pilot project under the EU's cross-border rail plan will connect Hungary, Austria and western Romania by train.
9. Various train services connecting Germany, Denmark and Sweden
Sweden's government-owned rail operator SJ has received EU backing for various projects, including a new night train service between Stockholm, Copenhagen and Berlin.
A day train from Hamburg in northern Germany to Gothenburg in Sweden is also in the works with SJ, Danish train operator DSB and Germany's Deutsche Bahn (DB). This service might also continue on to the Norwegian capital Oslo. It is slated to launch in 2027 and would slash travel times between the three nations.
Sweden's Snälltaget railway company has also received backing for an improved night train service from Stockholm to Berlin via Copenhagen, while the Czech Republic's České Dráhy, along with DSB and DB, will receive help with a new service from Prague to Copenhagen via Berlin.
German operator FlixTrain's new service from Leipzig to Stockholm via Berlin and Copenhagen is also listed for backing.
8. New night train from Paris to Venice
French startup Midnight Trains is set to connect France and Italy with a new night train service from Paris to Venice via Milan from 2025, backed by the Commission. This will make it faster and simpler for UK travellers to take the train to Italy.
7. A new train service from Munich to Zurich
Germany's FlixTrain has also received backing for a new rail service that's due to connect Munich in Germany, with Zürich in Switzerland.
ALLRAIL, the Alliance of Passenger Rail New Entrants in Europe, welcomed this news saying, "We hope that this first step will contribute to passenger rail market opening in Switzerland, to the benefit of passengers coming from or headed to [Switzerland]."
6. An extended rail service from Munich to Budapest
Austria's WESTbahn is set to extend its existing service from Munich to Vienna on to Budapest with EU support.
5. An enhanced train route between Amsterdam and London
In cooperation with the Commission and Eurostar, Dutch rail operator Nederlandse Spoorwegen (NS) is gearing up to enhance its existing service from Amsterdam to London.
In 2021, NS cut the journey time from Amsterdam to Berlin and increased the number of high-speed Eurostar services between London and Amsterdam from three to five a day. Also it is not clear what changes will be made this time, the service could be expected to get faster and more frequent based on these past improvements.
4. A new night train service from Amsterdam to Barcelona
North-south rail connections in Europe are about to get a whole lot better.
Soon-to-launch Dutch-Belgian train operator European Sleeper will run a new night train service from Amsterdam to Barcelona. Despite being lower down on the Commission's list, the private train operator says it hopes to launch this service in spring 2025.
The service plans to call at Rotterdam, Antwerp, Brussels and Lille - which has a connection from London - in the evening and Avignon, Montpellier, Perpignan, Figueras and Girona in the morning.
This will be the second route to launch after European Sleeper's first night train hits the tracks in May 2023, connecting Brussels, Amsterdam and Berlin.
Support from the European Commission will help the long anticipated operator overcome existing obstacles, such as capacity allocation and financing of rolling stock.
3. New train services from Rome and Milan to Munich
Italy's state-owned Ferrovie dello Stato Italiane is teaming up with Deutsche Bahn to launch new train services from Rome and Milan to Munich - backed by the EU.
DB already runs affordable services from Munich to Verona and Bolzano, and Frankfurt to Milan.
2. Train services to connect Lisbon with A Coruña and Madrid
Italy's ILSA train operator has received backing for its plans to launch new services from Lisbon in Portugal to A Coruña in northwest Spain and Lisbon to the Spanish capital, Madrid.
1. Catalonia to be connected to the south of France by new rail service
Catalan railway company Ferrocarrils de la Generalitat de Catalunya is set to launch new train services connecting Spain's northeastern autonomous community with the south of France with the support of the European Commission.