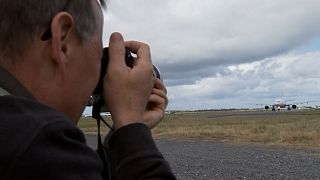 Imagine your favourite hobby. Now imagine you've been given behind the scenes access to make your hobby 100 times better.
That's exactly what happened to one group of plane spotters at Adelaide airport in Australia.
The aviation enthusiasts have been given rare access to the tarmac and elevated to crime fighter status in a bid to upgrade security around the terminal.
"This is awesome. Way better than being on the other side of the fence like we normally are," says plane spotter, Mark Spence.
Why has Adelaide Airport allowed plane spotters inside the fence?
The idea behind giving these plane spotters rare access to the internal workings of the airport is to take advantage of how much time they spend there.
"Any time in daylight hours when I'm not working. So for me I can do two hours in the morning then from 5 o'clock until 8 o'clock at night time," says spotter Andrew Lesty.
Few other people spend as much time at the airport. The Australian Federal Police (AFP) wants to make use of their specialist knowledge, and re-launch an Airport Watch program, similar to Australia and New Zealand's Neighbourhood Watch program.
The police are hoping they can spot not just planes, but be an extra set of eyes and ears for any suspicious behaviour in the area.
"Well we know the airport quite well and if we see anything unusual, we just give them a call," says spotter, Mike Didsbury.
"They do know what's normal and what's not normal so we build up relationships with them and they just feed stuff to us or information to us that we'll just go and check out," says Acting Inspector, Michael Smith, from the Adelaide Airport AFP.
Police say other airport regulars and staff have previously been instrumental in spotting unusual activity.
Watch the video above to learn more.